Introducing BillyOh's range of 8 x 6 sheds
The 8 x 6 size is the most popular variety of shed that BillyOh manufactures. But size isn't everything – there are substantial differences in the selection of 8 x 6 garden buildings we have to offer.
The budget money-savers The 20 and 30 provide top economy solutions, for when you need a basic storage building that does the job for as low a price as possible.
The great all-rounders The 200, 300 and 400 are the standard range of garden sheds we offer, popular with many customers for regular storage requirements. They're at a great price point whilst offering better quality and more features than the 20 and 30.
The premium recommended solution For a premium garden shed at a great price, look no further than the 4000. With durable cladding and great features, we recommend the 4000 for anyone who needs a good quality, versatile garden building they can rely on.
The ultimate building The 5000 and 5000 Retreat are the best of the best. With a long-lasting build quality and increased height, these are the top spec 8 x 6 buildings we have available – for the enthusiast who wants a little more luxury.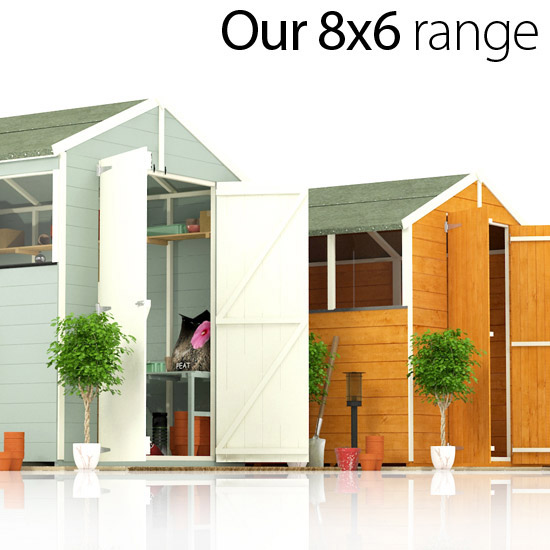 A BillyOh shed for everyone
BillyOh's extensive range of 8 x 6 garden sheds is guaranteed to have the ideal building for your requirements, whatever they may be. The 20 and 30 are for your basic storage needs, keeping low-value belongings tidy and out of the way, such as your gardening tools and garden furniture. The 200, 300 and 400 represent our standard storage range, still suitable for relatively low-value belongings but offering a little extra quality for peace of mind.
The 4000, on the other hand, is our recommended building for a variety of uses. As a premium garden shed it's ideal for all of your storage requirements, whilst also serving as an excellent workshop if you're passionate about practical hobbies and DIY. Finally, for the ultimate option we offer the 5000, providing high-quality storage space as well as the best working environment available.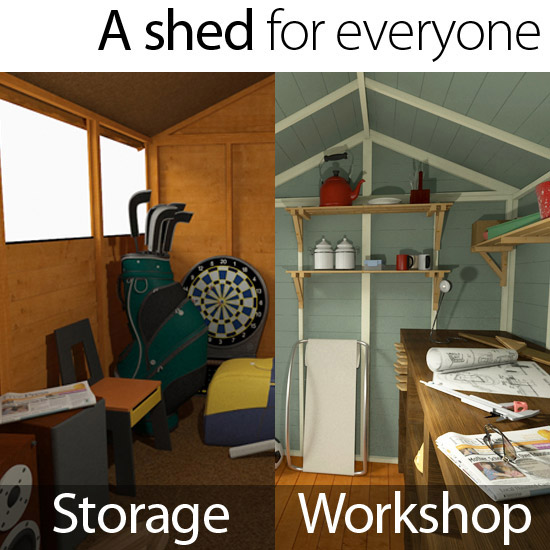 Choose your cladding
Economy Rustic Overlap If budget is your number one concern, our Economy Rustic cladding is what you need. Found on the 20 building, this is a 'waney' construction that features wavy-cut overlap timber suitable for basic storage.
Standard Overlap Standard overlap cladding is found on several sheds in our range, offering an affordable solution for storage. The 30 and 400 are available in standard overlap, whereas the 200 has pressure-treated overlap for a maintenance-free option.
Standard Tongue and Groove The 300 provides the long-lasting durability benefits of standard tongue and groove, whilst being offered at a great-value price.
Premium Tongue and Groove The premium tongue and groove construction of the 4000 and 5000 is our thickest and finest quality garden shed cladding. It's strong and reliable, ensuring that you'll enjoy the use of your building for many years to come.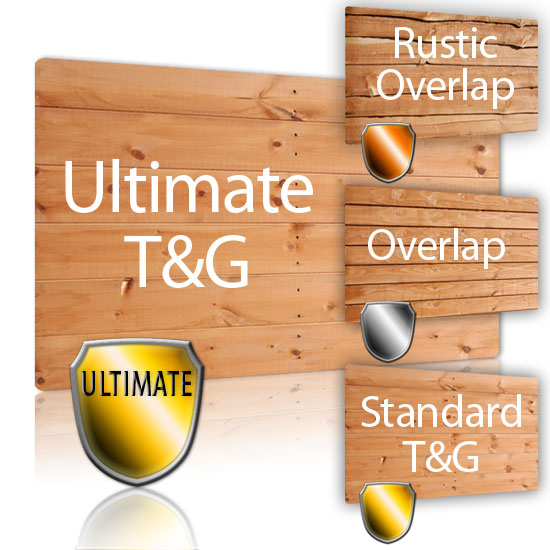 Multiple door and window options
Many of our garden sheds include a standard single door for regular storage use; however, there are extra options available for special requirements. The 200 includes a single stable door, allowing the top and bottom of the entrance to be opened and closed separately. Choose a 4000 or 5000 to enjoy the inclusion of a double door, making it much easier to carry large items in and out. And exclusive to the 5000 Retreat is an extra personnel side door, giving you superbly convenient access to your building.
The 5000 Retreat also includes higher quality windows than the other 8 x 6 buildings in the BillyOh range. Whereas other models feature standard fixed windows – adequate for the average garden building – the Retreat has the benefit of opening windows to give extra ventilation when using it as a workshop.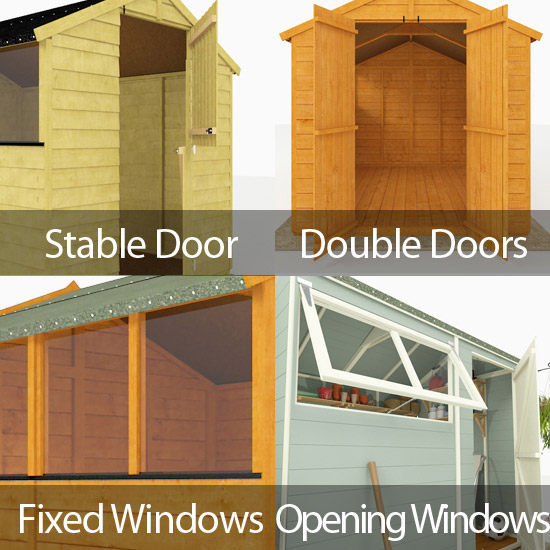 Choose your floor style
We offer several flooring options to suit your needs, allowing you to choose the ideal option for your garden building.
Premium includes a pre-assembled made-to-measure floor, constructed from high-quality tongue and groove boards. It's a convenient option that provides you with additional strength – great for regular, demanding usage. The premium floor is also the most attractive-looking option, giving a refined appearance.
The Standard option is also pre-assembled, consisting of a solid sheet made-to-measure floor. The floor is made up of varying solid sheet panels, which provide a functional base for your shed with regular strength. This is our value finished floor, ideal if you have less intense use in mind.
Do you fancy a DIY challenge? If so, we give you the option to provide your own materials and construct a floor to your personal specification. We recommend this option for the more experienced handy man/woman only.
For our floorless shed base recommendations CLICK HERE
If you require any further information on this please contact our experienced sales team on 0800 169 6016.
Please note: The external eaves and ridge heights will vary slightly dependant on floor option.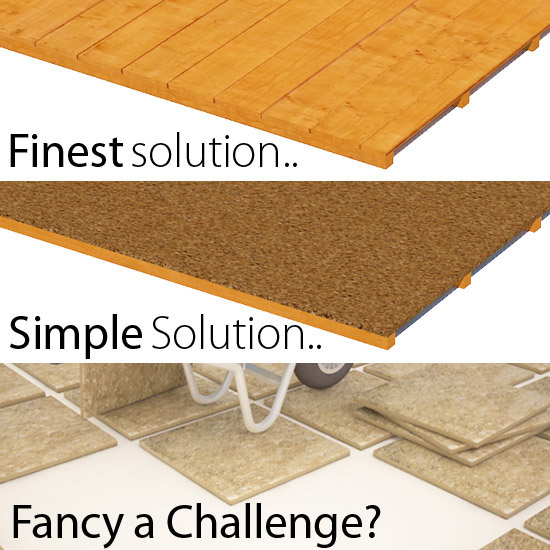 Easy to manage
We have listened to the requests of our customers for panels that are easier to handle and manage. As a result, we've designed our panels to be less cumbersome. The new construction method allows entry to gardens with limited access, and makes it much easier to move the building from delivery position to the build area.
We have tried and tested the fact that all our panels can fit through a standard front door opening, providing there are no obstacles in the way. Another bonus of this construction type is that the buildings are assembled in more manageable bite-size sections. As a result, the assembly process is far safer and less likely to result in damage to the building parts when putting them into position.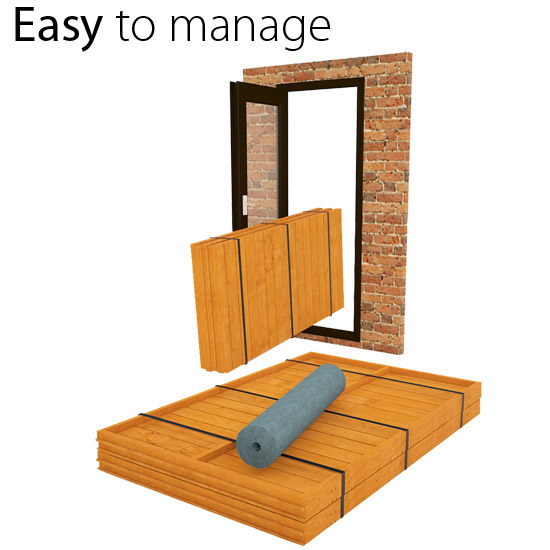 Direct to you - hassle-free!
Not only do we aim to offer the best value for money, but our delivery service is second to none. All of our products include free delivery to selected postcodes. Check our postcode search facility to see if you qualify for free delivery.
How your order will be delivered: Your building will arrive via our scheduled delivery service and delivered straight to the kerb of your house. It's delivered in sections – the quantity and size of the sections vary depending on the size ordered. Some items may also be banded together for protection during delivery.