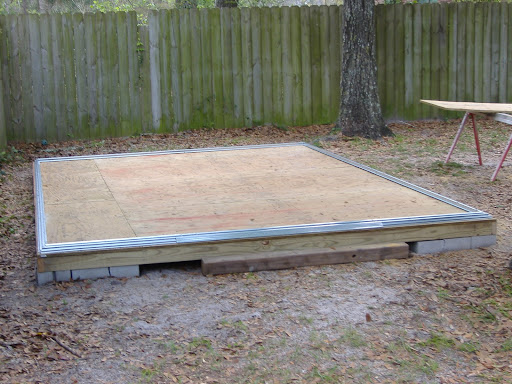 Image Credit: "Shed Floor" by nfspw is licensed under CC BY-SA 2.0
How to Insulate a Shed Floor
Looking to weatherise your garden shed to create a cosy annexe office or bunkie for the family? Perhaps you just want a temperature-controlled storage space? Either way, if you want a shed to withstand Mother Nature, you'll need to insulate the shed floor.
Insulating a garden shed floor is not difficult, but the project does require different steps and tools depending on the situation. This article will explore the various aspects of shed floor insulation and the factors that impact the project.
What Is The Shed Situation?
Before attempting to insulate a shed, it's essential to prepare for the correct situation. Consider these questions when planning for the project:
Is The Shed Already Built?
Existing structures or pre-built shed models require different insulation steps than an unbuilt blueprint. For example, a shed still in the planning phase easily accommodates the addition of insulation. However, existing sheds generally require the physical removal of flooring or the addition of chipboard flooring layers to cover insulation.
What Is The Shed's Structure?
Consider the structure of the shed before installing insulation. Cheaper or wooden sheds tend to benefit from more insulation, whereas more expensive structures usually come with better weatherproofing (though this is not guaranteed.) 
3. What Is The Foundation Type?
A shed's foundation plays a role in determining how you can insulate it. For example, a shed resting on a concrete slab will need to be lifted off the foundation or torn out floorboards to insulate properly. In contrast, a raised wooden foundation provides easier access for insulation.
Insulation Options
There are many insulation products and options on the market these days. The merits and benefits of insulation vary based on price, material, and R-value (which dictates how well the material insulates.) Your local home improvement centre will usually carry some variation of these options:
Fibreglass or Mineral Wool
Fibreglass is both inexpensive and easy to use. It comes in a variety of R-Values, with lower values of R-8 costing less while higher R-values of 19 or higher provide better insulation. However, fibreglass insulation is prone to moisture damage and moulding. Therefore, if you choose to insulate with fibreglass, you must seal the insulation with plastic facing to avoid moisture and pest problems.
Mineral wool, like fibreglass, comes in batts or rolls that are easily cut and installed in pre-existing and new sheds. However, mineral wool is not as itchy as fibreglass. However, like fibreglass, mineral wool is prone to sag, can create gaps in joists, and does not tolerate moisture. 
Rigid Foam
Rigid foam, or sheets of polystyrene, look and cut like styrofoam. These handy sheets do not lose their shape over time like fibreglass, and handle moisture well. However, rigid foam requires more cutting and shaping and runs more expensive than fibreglass options.
Spray Foam
Spray foam insulation is exceptionally effective and durable. The material is gapless and provides the best insulation efficiency when compared to its counterparts. However, spray foam is expensive, and you cannot spray it without a backing available for it to stick to, so pre-existing sheds generally require some tearing and reinstalling of floorboards to install the foam.
DIY and Temporary Options
In a pinch or on a tight budget? For fast and temporary insulation options, consider installing a plastic sheet over the floor and adding a carpet or old blankets on top of that. While not the prettiest solution, it can provide extra insulation until you can install proper insulation products in the shed.
How To Successfully Insulate A Shed Floor:
To correctly install insulation that will provide adequate temperature control for the garden shed, follow these steps:
Collect The Tools:
Straight-edge

Utility Knife or Reciprocating Saw

Safety Glasses

Insulation

Underlayment

Expanding Foam or Caulk

Pry Bar
Prepare the flooring. Remove all items from the shed. 
For Unraised Shed Floors
If the shed rests on a concrete slab or rests directly on the ground, you'll need to raise the shed from the foundation before continuing. 
For Raised Shed Floors
If you have access to the shed joists without lifting the shed, carefully pull up all floorboards of the shed and store them in a dry environment or place them on a plastic sheet outside the shed until you need them again.
Install wooden support blocks.

All types of insulation need wooden blocks to support the material and prevent sagging. Install the blocks in the gaps of the foundation structure. 
Take measurements and cut materials.

First, measure the space between floor joists by width and length. The spaces average anywhere from 15 to 60 centimeters but can run larger for bigger sheds. Once you have your measurements, cut the insulation and underlayment to fit the gaps. The more exact the measurement, the better the insulation will work.
Install insulation.

Layer the insulation in the measured gaps, starting with the underlayment before placing the insulation over the wooden support blocks. Seal any cracks with the expanding foam or caulk.

Reinstall the floors. 
Alternatives to Tearing Up Floorboards:
There are a few alternative methods to consider if you don't want to tear up your garden shed's floorboards, but they both come with detractions. 
Option 1: Layer Insulation On Top of Joists
To reduce the amount of cutting involved with insulation, you can install insulation boards on top of the floor joists. However, this method does not work with batt or rolled insulation. You still must install wooden blocks between the joists to provide adequate support for the insulation. Additionally, you'll likely need to adjust the doorways and will have to re-attach the flooring through the insulation.
Option 2: Install False Flooring Over Rigid Foam Insulation
If losing a bit of headroom is an option in your shed, you can always add a layer of insulation and chipboard flooring on top of the existing floor. This method works great for a time-effective, easy DIY solution to floor insulation. However, insulation boards work best for this project, and the doors and trim of the shed usually require adjustment after the installation. 
Final Thoughts
Insulating your shed into a warm retreat or storage nook does not have to be complicated. Adding insulation to the shed floor will keep your toes warm and your belongings safe from the ill effects of weather all year round. Remember to measure precisely and utilize the higher quality R-value insulation for the most significant benefit to your shed.