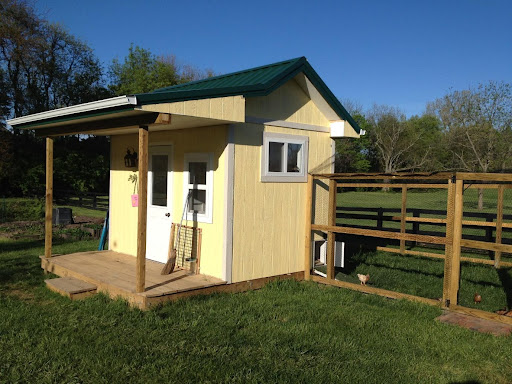 Image Credit: Phil Denton / flickr
How to Convert a Garden Shed Into a Chicken Coop
When looking to convert your garden shed into a chicken coop, there are a few elements to consider. Some of the main things to consider are space for your chickens, where the shed will go and what interior requirements make for happy chickens.
Is It Cheaper To Just Build a Chicken Coop? 
Building a chicken coop from scratch can be cheaper than converting a shed. However, if you already have a shed in your garden, adding these additional elements can be much more affordable. Plus; when done right, sheds make for an aesthetically pleasing chicken coop.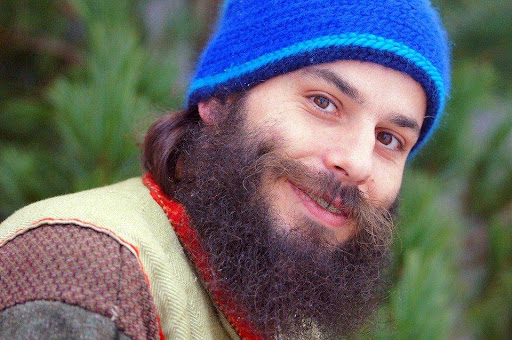 Image Credit: rottonara / Pixabay
Benefits of Converting a Shed Into a Chicken Coop
Here are some of the top benefits of converting your garden shed into a chicken coop:
You can modify the structure to make the chicken coop whatever size best fits your garden.

The exterior of the chicken coop can match your garden, and look pleasing to the eye.
You can build a chicken coop on par with your budget, allowing you to save some money, while still creating a great place for your chickens to enjoy.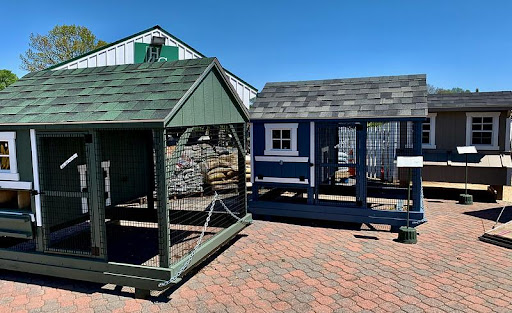 Image credit: F Delventhal / flickr 
How To Secure The Shed
Unfortunately, chickens are susceptible to being attacked by predators such as foxes. Therefore, making sure your shed is secure is vital when converting into a chicken coop. Often predators can dig their way into the coop.
A great way to secure your new chicken coop is by having a concrete base. Concrete will serve as extra security, deter rain from getting in, and allow your chickens to dig their feet without damaging the coop.  
What Does a Chicken Coop Need? 
Chickens require a few staple items in their coop. These include nesting boxes and roosting bars. Paired with a large amount of space, your chickens will thrive. 
Installing nesting boxes
Nesting boxes are an important part of any chicken coop. However, contrary to what you may think, every hen doesn't need its own nesting box. 
Hens usually use the same nesting boxes and even queue if need be. Therefore, creating a small amount of chicken nesting boxes makes sense as it allows additional room in your coop. 
Aim for around 3-4 depending on how many hens you have in your coop. 
Create an air vent
Wooden sheds can get extremely hot in warmer months, especially with no opening windows. Therefore, it is important to create an air vent for your chickens. 
Creating an air vent is simple and it is recommended that if you are converting a shed to include two air vents in your coop. 
Hiding places
Chickens enjoy having their own space, especially when they are feeling stressed. Therefore, providing areas for your chickens to hang out and be alone is important.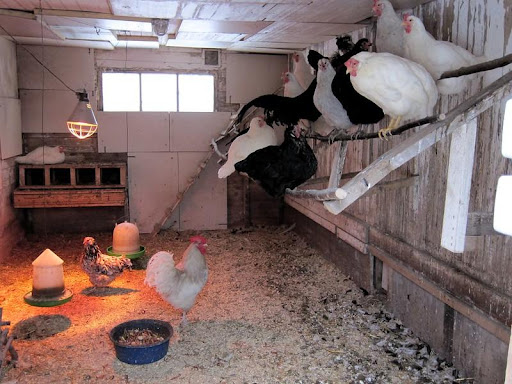 Roosting bars
On instinct, chickens seek high roosts to avoid predators. Although there aren't predators within the coop, it's ingrained behaviour. 
You will notice that your chickens use roosting bars to sleep on whilst lined up at night. Being up high allows them to feel safe whilst they sleep. Make sure your coop has enough roosting bars, else you may notice chickens bedding down on the floor. 
Roosting bars can be painted to avoid splinters and paint allows for an easy clean when it comes to scraping off the poop. This is usually done on the roosting bars at night. 
A roosting bar can be made up of numerous materials. Such as an elevated bar, a branch or a narrow plank. When selecting a material be prepared to create something which can be removed for easy cleaning.
Roosting bars vary in size depending on the amount and size of chickens you have within your coop. For heavier breeds it's important to consider a heavy-duty material. 
Place the roosting bars at least a foot from the ground, within your coop and aim to put them around a foot from the nearest wall.
Providing roosting bars is crucial for happy chickens.
Attach a run
Every coop needs a run attached for additional space for chickens to enjoy. Plenty of space and enjoyment outdoors provides a chicken with a more full and satisfactory life.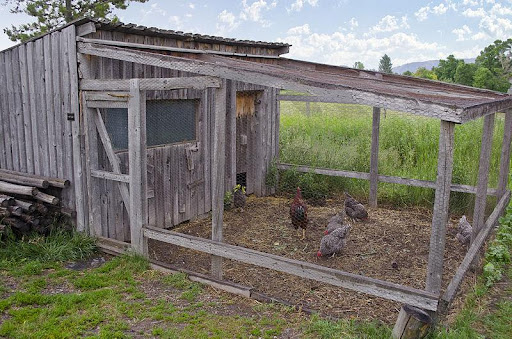 Image credit Tim Evanson, CC BY-SA 2.0, via Wikimedia Commons
How big does my chicken coop need to be?
The size of the coop will depend on how many chickens you are looking to house alongside the breed of the chicken. Mile Four has a great calculator to help you work out the perfect size for your coop. 
For 6 regular-sized chickens, it is advised that you need 60 sq feet to happily house them.
If you're looking for the size of a run it doesn't need to be as big as the coop as not all chickens are likely to be out at the same time. However, a good-sized run is roughly half the size of the coop.
Step By Step Guide To Converting a Shed Into a Chicken Coop
If you've decided to go ahead and convert your shed into a chicken coop, then you've come to the right place. Here's a step-by-step guide on how to do this. 
Step 1. Pick a location
When choosing a location in your garden there are a few things to consider. These include space and surroundings for a chicken coop. After all, chickens will eat pretty much anything given the chance, and this includes your crops and plants. 
Therefore, it's important to make sure the location isn't next to an area you want to keep nice as it is unlikely to be this way when you've had your chicken pen there a while!
The coop needs a large run attached, the size of which is important to figure out before you move the coop. Once you've made a plan of where the coop and pen is going to go, it's time to move on to the next step. 
Step 2. Build a stable base
This is particularly important as chickens love to use their nails to scrape at the ground to get worms and bugs. Therefore, if you are looking for a base for the chicken coop, a layer of concrete would be ideal for this.
For the run, you also need to consider the fact that they can dig. With this being the case, it also means that other animals can use these holes to enter the run. Make sure the run is made from secure fencing. 
Step 3. Move or build the shed
Next on the list is to build the shed, or if you're using an existing one to move this from its current location. If your shed is already in the right place for your coop you can skip over this step. However, if you are looking to buy the perfect shed for a chicken coop you can find sheds here.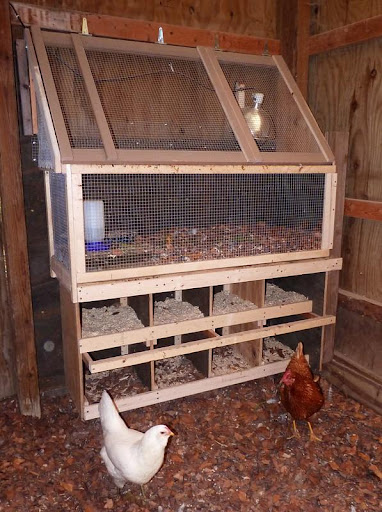 Image Credit: normanack  / flickr
Step 4. Set up the interior
Once the location of the coop has been decided, it's time to move on to setting up the interior.  
This is one of the most important steps in setting up a chicken coop, as this is how you make your chickens feel comfortable.     
Make sure that you provide chickens with the following in their coop:
Water 

Nesting boxes

Feeders 

Space to run around

A run for outside 

Air vent for fresh air to come in and out of the coop

                        
Step 5. Create access to the run from the coop
Depending on the height of your coop, will depend on whether your chickens require a ramp to easily get out of the coop into their pen. If you need a ramp, be sure to consider the size of your chickens, their feathers and whether you will need cleats on the ramp. 
Adding cleats to a ramp is always a good idea as they provide an extra level of security for your chickens when they're going up or down from the coop. 
If your coop is low to the ground, or on the ground, then a ramp will not be necessary. However, for safety, it is recommended that you have your coop off the ground.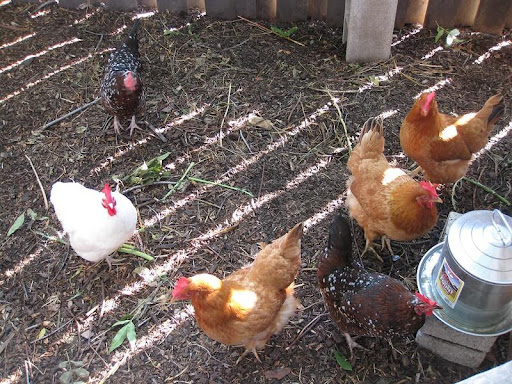 Step 6. The Chicken Run
The final step, and arguably one of the most important parts of a chicken coop is the run. Chickens enjoy being able to run around in the open space. When considering whether to buy a run or make your own, either would be a great addition to a DIY chicken coop, however…
By making your own run you are able to choose the size, create additional safety features and make it fit your land size and style.
3 Important factors to consider when creating a chicken run are:
The size of the run

– this needs to be relativity big, and

it is recommended that chickens

require around 15 sq feet each. However, realistically, the bigger the better. 

The security of the run

– with predators around, it is important to protect your chickens with secure mesh wire and make sure that there is no way for rodents to climb underneath the pen. If you choose cheap wire, foxes may be able to chew through this. 

The ground

– The ground is the next thing you need to consider in your chicken pen, allowing different textures on the ground can be great fun for your chickens. You can use wood chippings, sand, grass or even wood. 
Round-Up
Whether this is your first DIY coop that you've made, or whether you're a pro, we hope you've learnt something from this guide. 
If you are considering buying a shed in order to turn it into your own chicken coop, Garden Buildings Direct has a large range of sheds and outbuildings which will work a treat for your coop.