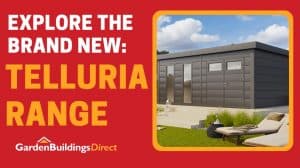 Introducing the Telluria range of Metal Garden Buildings – the perfect addition to your outdoor space! A brand new range of modern and cutting-edge Metal Garden Buildings, the Telluria Range is a collection of Steel buildings that are robust and durable as they are attractive.
With a wide selection of buildings, including the Eleganto and Luminato ranges, you can find a new Metal Garden Room to suit your needs.
What Makes Telluria Buildings Special?
Telluria Buildings are one-of-a-kind for more than one reason. When it comes to looks, durability and security, they stand alone.
Every Telluria building is made from modern steel wall panels that are designed to be durable and provide options for multi-purpose use and customisation. The hot-dipped and layered steel cladding is UV, wind, and fire resistant, creating a tough exterior. The panels themselves are constructed with two layers of cladding surrounding a 120mm internal air gap. This provides natural ventilation, while also being the ideal space to install insulation or electrical wiring and outlets. All roofs are insulated as standard using 4cm sandwich panels. On top of this, for added peace of mind, each building comes with a 20-year Manufacturer's Warranty!
Each building is built to be secure, with the strong metal material providing the ideal protection from intruders. There are also a number of in-built security features, including a cylinder lock which comes with two keys.
Take one look at a Telluria Building, and you can see what the fuss is about. Their sleek graphite exterior is perfectly complementary to modern garden settings, while the window designs and smartly designed fixtures add flair to refine the modern silhouette. All this is completed by the fashionable pent roof with a two-degree pitch. 
The Buildings on Offer
The Telluria Eleganto Steel Shed selection is the perfect storage solution for your garden tools and equipment. With its sleek and modern design, this shed is not only functional but also adds a touch of elegance to your outdoor space. Available in three different sizes, there is a Telluria Eleganto Steel Shed to fit every garden.
For those looking for a little extra space, the Telluria Luminato Steel Garden Room is the perfect choice. With its large windows and modern design, this garden room is the ideal space to relax and unwind. Whether you are looking for a home office, gym, or just a space to enjoy your garden, the Telluria Luminato Steel Garden Room has got you covered.
For a full list of the buildings we have on offer, take a look below.
We are thrilled to offer the Telluria range of Metal Garden Buildings on our website. With its modern design and high-quality construction, these buildings are sure to be a great addition to your outdoor space. Explore the range today by clicking the button below and find the Telluria perfect building for your garden!
Shop the New Telluria Range