If you're looking to elevate your outdoor living experience, you've come to the right place. Garden Buildings Direct brings you a range of exceptional Telluria garden buildings!
These units are meticulously crafted with the utmost attention to detail and quality. We'll provide you with an overview of each model so you can find the perfect structure that meets your demands. Read on and discover how these remarkable structures can redefine your garden.
Understanding Telluria Garden Buildings
There's a new kind of garden room on the block – and this one is made with steel. The Telluria garden building range makes an exceptional example.
One of the key aspects is the use of high-quality materials in their construction. Crafted with precision and durability, the Telluria range is made from premium-grade metals. The materials are carefully selected to withstand the elements. This ensures a robust structure that will stand strong against the test of time.
Durability and weather resistance are other inherent qualities of this model. The materials used offer excellent resistance against rust, corrosion, and fading. Say goodbye to worries about weather-related damage!
Telluria garden buildings come in a variety of sizes and designs. Browse through our available units below to find the one for your outdoor space needs.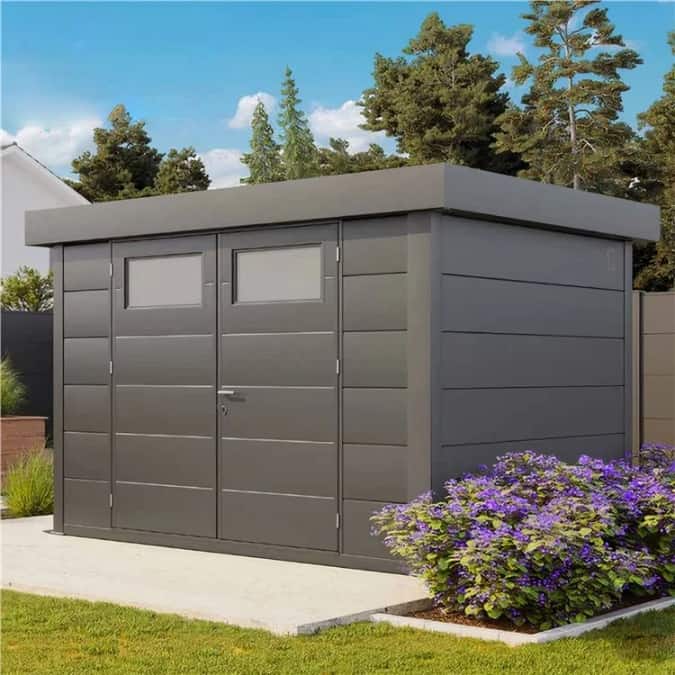 A robust and versatile storage solution that combines durability with practicality. Designed to meet your storage needs, this shed offers a range of features that make it a standout choice!
Accessible double doors are a notable feature of this heavy-duty steel shed. These doors provide easy access for hassle-free loading and unloading.
In-built ventilation is another important feature. The shed is designed to maintain proper airflow. This helps prevent moisture buildup and keeps your stored items in optimal condition.
The Telluria Eleganto Heavy Duty Steel Shed offers three unique sizes for storage. These options provide flexibility and versatility to meet your storage needs effectively. Furthermore, it comes with an insulated roof and offers wall insulation options. This insulation helps regulate the shed's temperature.
Its versatility lies in its ability to serve various storage purposes, to add. It can be used to store bicycles, outdoor furniture, or any other items that need safe and secure storage. Indeed, the ultimate solution for all your storage requirements!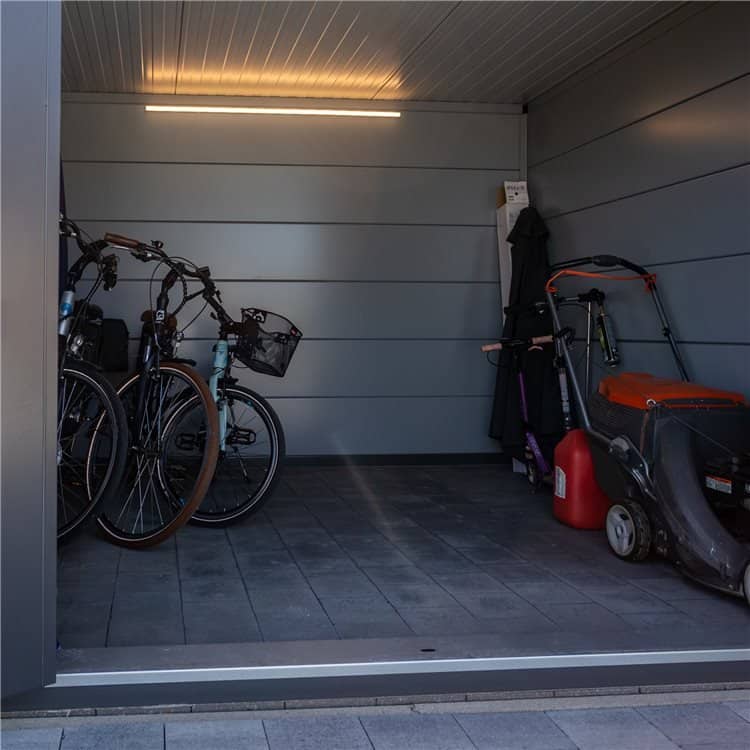 Looking for a bigger version of the Eleganto Heavy Duty model? Say no more with this 13x10ft version!
One of the standout features of this shed is the insulated pent roof at a 2-degree angle. This ensures efficient water drainage and prevents water from pooling on the roof. Additionally, the insulation helps regulate the internal temperature. This makes the unit suitable for storing items that require a controlled environment.
The 120mm space between walls is ideal for insulation or installing electrical points. This feature allows you to customise the shed to meet your specific requirements. And did we mention the built-in ventilation? This added design ensures proper airflow, reducing moisture buildup inside the shed.
Another key point of this unit is the UV, fire, and wind-resistant exterior. This robust construction ensures that your shed can withstand harsh weather conditions. As for security, it features a cylinder lock and two keys. You can have peace of mind knowing that your stored items are secured and protected.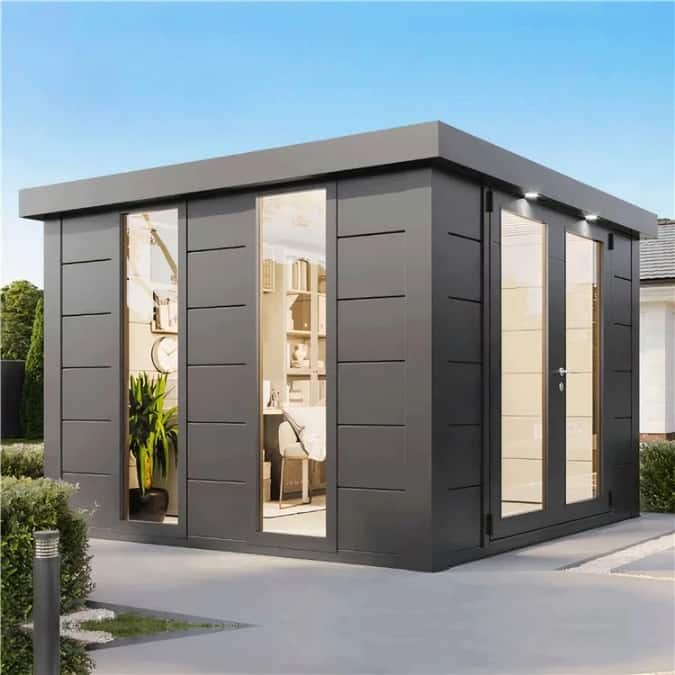 The Luminato is a standout model among the remarkable range of Telluria. Its perfect blend of style and functionality elevates your garden to new heights.
One of the standout features of the Luminato is its contemporary design. The sleek modern lines effortlessly enhance the visual appeal of any outdoor space.
The spacious interior provides ample room for a variety of applications. Whether you're in need of a home office, a relaxation area, or a hobby room, this garden building has you covered. Its generous size creates a versatile space that can adapt to your specific needs, to add. This allows you to design an area that perfectly aligns with your lifestyle.
Crafted from premium-grade metals, your Luminato will remain a reliable and robust structure for years.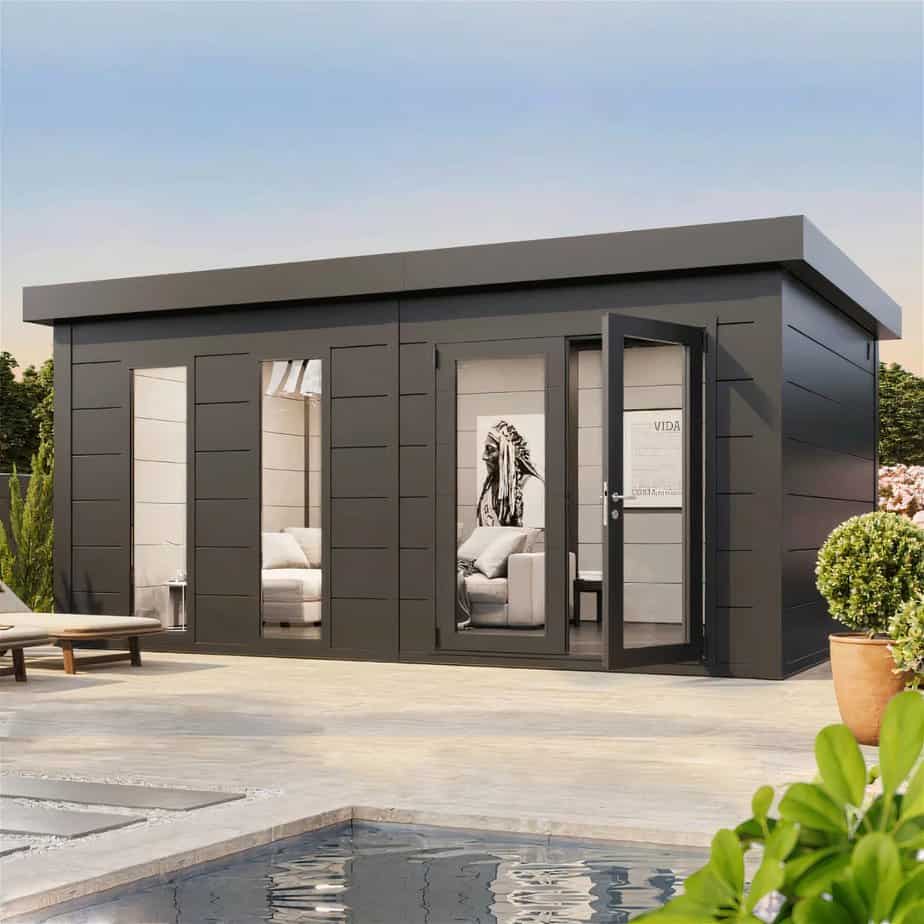 With its generous dimensions, the Luminato Premier provides a truly expansive interior space. Whether you have a growing family, desire a larger home office, or simply crave ample room to relax and entertain, it's designed to meet your needs. Its size allows various layout possibilities to create a space that suits your needs.
In terms of design, the Luminato Premier exudes contemporary elegance. Its clean lines, sleek aesthetics, and modern appeal are the highlights. The large windows invite abundant natural light, creating a bright and airy atmosphere.
Its versatility also knows no bounds. It can be transformed into a multitude of functional spaces. Need a home office that accommodates multiple workstations? Or a dedicated studio for your creative pursuits? This garden room offers the perfect setting.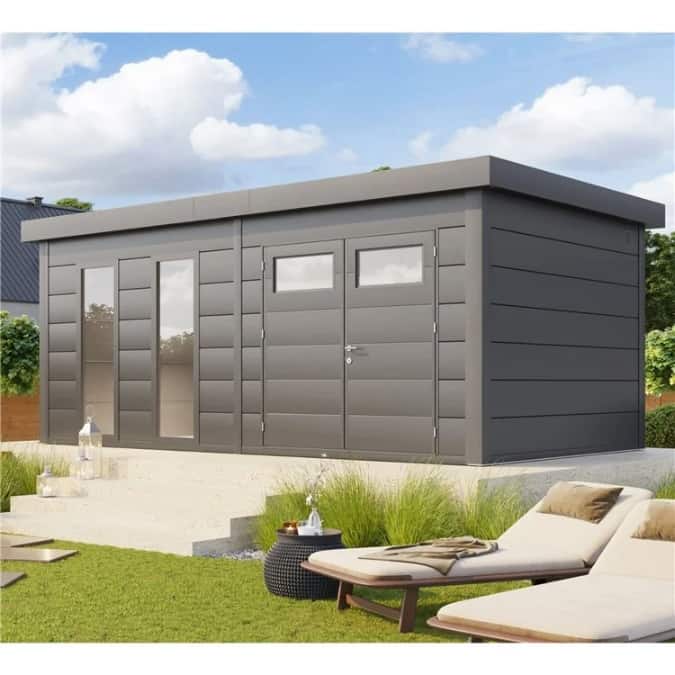 The Eleganto Shed Office is an impressive addition to the Telluria lineup. The interior space allows you to create a comfortable and productive work environment. It offers the perfect spacious and stylish solution for your home office needs!
The contemporary design of the Eleganto Premier Steel Shed Office is sure to impress. Its sleek and modern aesthetics seamlessly blend with your existing surroundings. The large windows allow natural light to flood the interior. This creates a bright and inviting atmosphere that promotes productivity and creativity.
While it is designed primarily as a home office space, it can be used for a wide range of purposes. Beyond being a workspace, it can also serve as a studio for artists or designers. A hobby room for pursuing creative passions or a cosy reading retreat.
This dedicated office setting helps improve focus and concentration. Investing in one also means an established clear boundary between work and home life. Overall, this shed office offers the ideal setting to thrive in your endeavours.
Round-up
Telluria Garden Buildings offer exceptional quality, versatility, and durability for your outdoor space. From the spacious and contemporary designs to the high-quality materials and features, you name it!
Another big benefit is the 20-year warranty provided by the manufacturer. This reflects confidence in the garden building's quality and longevity. It offers you peace of mind, knowing that your investment is backed by a guarantee of long-term performance and durability.
Whatever you plan to use it for, Telluria has a range of options to suit your preferences. Visit Garden Buildings Direct to explore Telluria and unlock the full potential of your outdoor space!