Garden sheds offer the best place for outdoor equipment and gardening tools. But these outbuildings can be so much more than a dumping ground for outdoor belongings.
With a great selection of shapes and sizes, why stick to one cookie-cutter version? Deemed as a versatile garden building, a shed can be used in various ways, benefiting you and your family.
A great place to start is with these creative ideas. And thankfully, there's a wide range of shed types to cater to these common needs. Here, we'll divide the categories into two (2):
Different types of sheds

Inspiring looks for your own

garden room
Our team has prepared plenty of design inspiration to spark those creative plans, so read on!
---
Garden Shed Types
Looking for storage to stow away your bike? Or a large unit to pursue your creative endeavours?
Somewhere out there is a shed for you! Here are the common shed type ideas to get you thinking.
---
1. Corner sheds
If you have an oddly shaped garden, shopping for garden sheds can be tricky. This is where corner sheds come into the picture.
A corner shed makes full use of those awkward spots in yards. A shed like this is ideal for when you're desperate for outdoor storage but can't find the right spot for a large unit.
They come in all shapes and sizes, but this one pictured above is even big enough to be used as a guest room.
2. Studio workshop sheds
Workshop sheds are perfect for those with spacious outdoor spaces. Like this T&G unit, this type of shed offers enough space to store bulky items, such as garden furniture. 
Some models have more rooms to provide for a crafting bench and more. This is perfect if you want to get crafty or develop a hobby.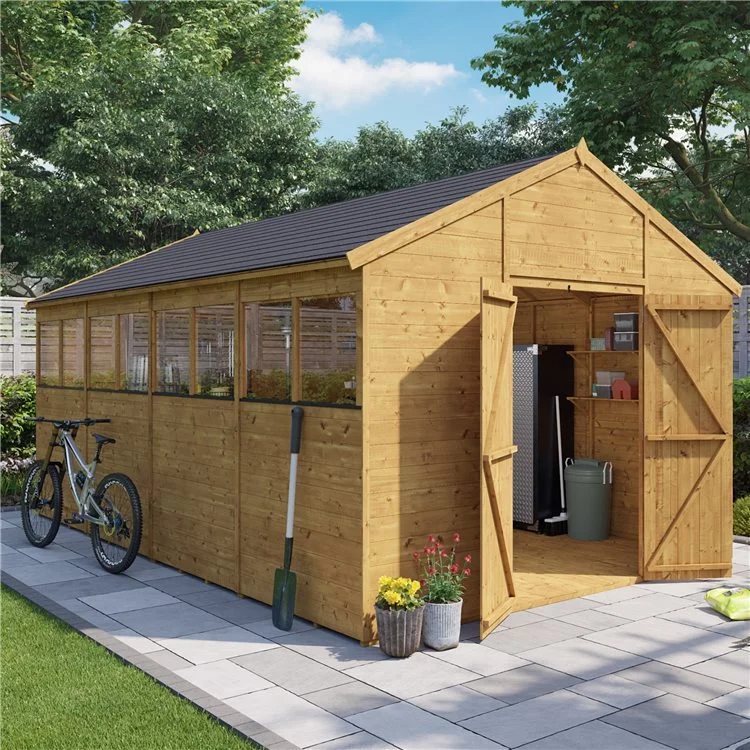 3. Small sheds
The benefits of mini sheds can be pretty big. For one, small storage units meet the building code/planning permission in most areas.
They're ideal if you want to invest in a garden room without eliminating too much green space. Plus, they are just the right size for storing bikes or new wheelie bins.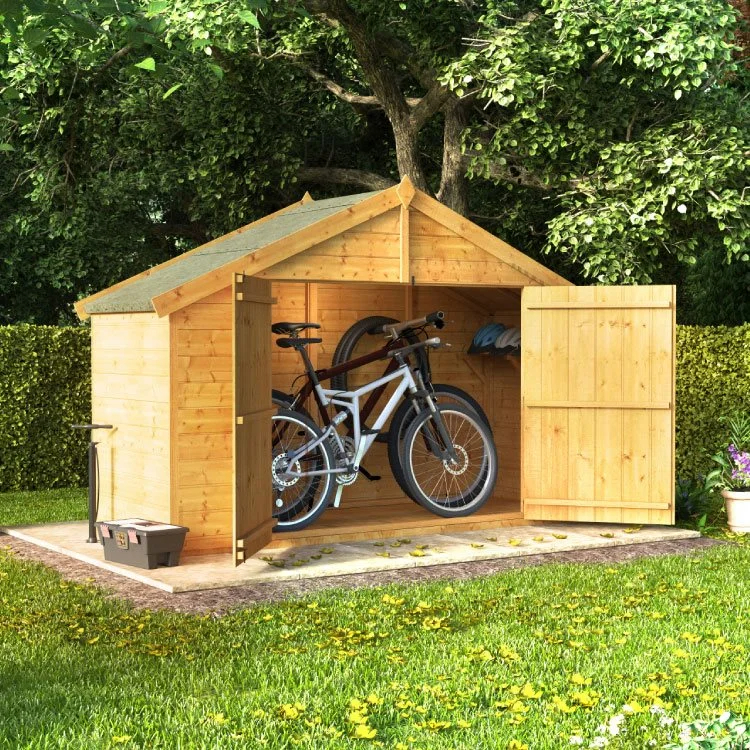 4. Overlap sheds
Overlap sheds use wood boards, or cladding laid partly on top of each other. This construction makes for a durable and long-lasting structure.
It also deters rainwater from seeping through gaps between boards. Not only is it a sturdy option for storage, but also as a home office, she shed, or BBQ area.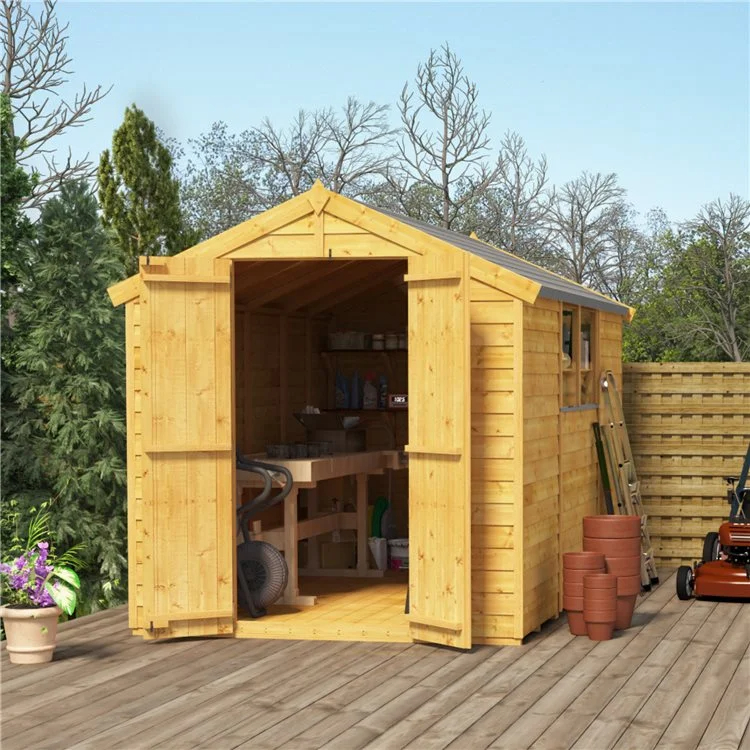 5. Plastic sheds
Plastic sheds can withstand elements but are still lightweight enough to be used as temporary storage. They don't require the solid concrete base that wooden or metal sheds do.
This saves you time and money if you're looking for a quick fix for your outdoor storage problems.
6. Metal sheds
Like wooden sheds, metal sheds can be more than just empty spaces for power tools or random junk. You can utilise the space for your creative endeavours as long as it has the following:
Clear view

Storage/shelving units

Proper lighting
With the right customisation, a metal shed can be your dream garden bar or entertainment area.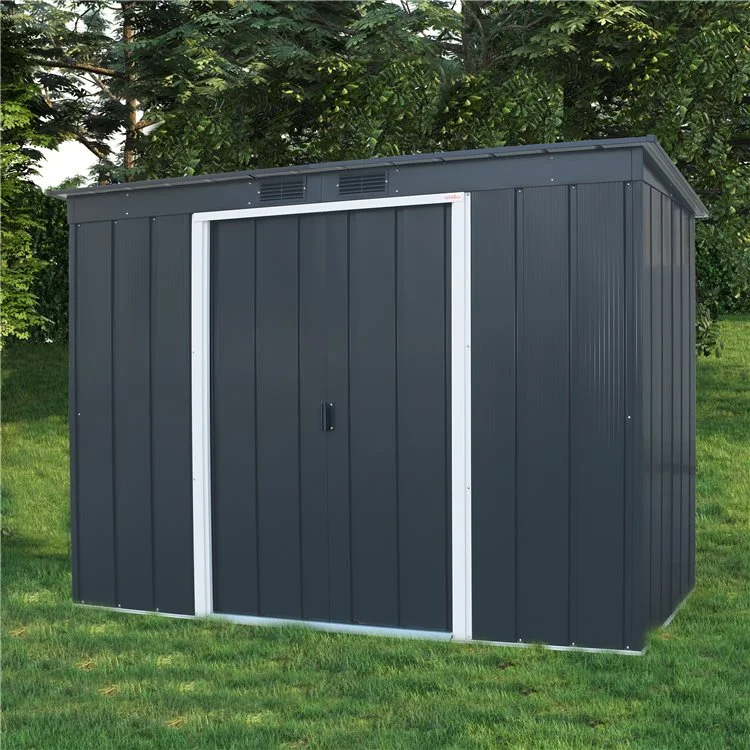 7. Storage boxes
Storage boxes are an excellent alternative to sheds in terms of storage. They don't take a lot of space up and are perfect for hand tools, bags of compost, even foldaway mowers.
Plenty of styles and materials are available, but all keep your belongings dry, safe, and ready for use. Just like this sleek metal box that provides a more stylish look rather than rustic wood.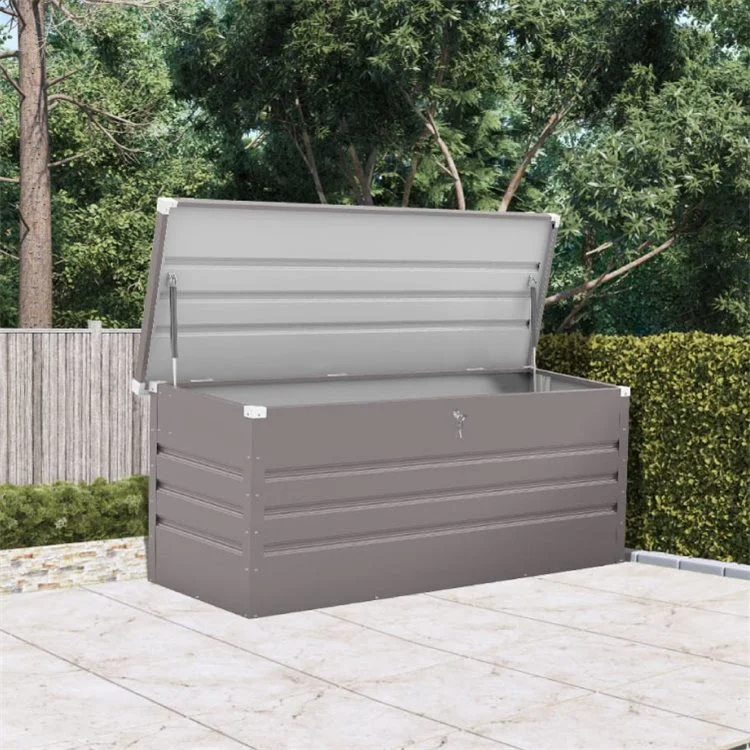 8. Tall store sheds
If you want a shed mainly for storing your garden tools, a tall store might be for you. It provides all the benefits of a shed without committing to full-size units.
Look for a unit with corner shelves to hold smaller tools and equipment, giving you more space on the floor.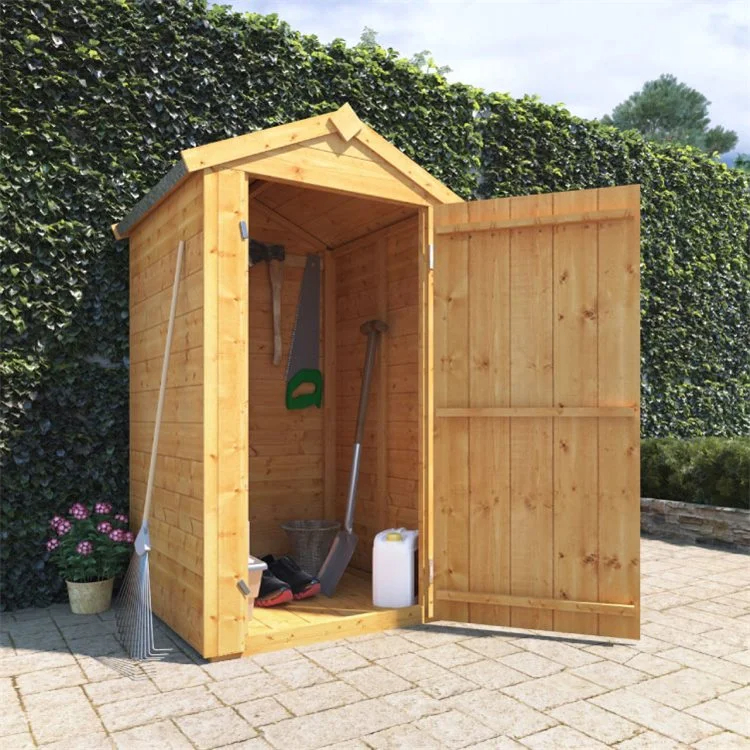 9. Vehicles stores
If a mini shed that can house bicycles isn't enough for your needs, you need something a little larger. Modern garden storage is set up to hold more than just a few deck chairs and DIY tools.
Storage sheds like this one are perfect for keeping motorbikes and lawnmowers. They're a much cheaper alternative to building a full-scale garage extension.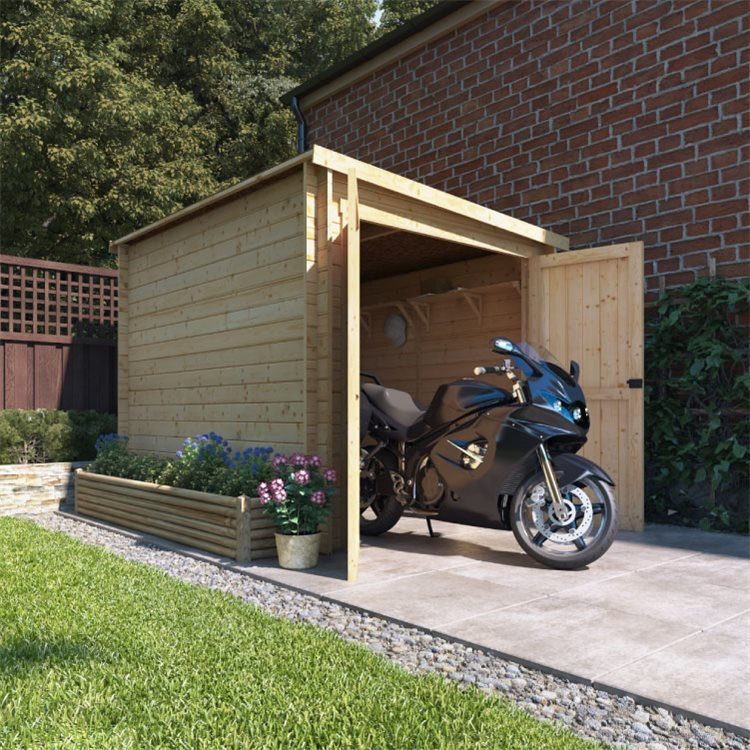 10. Pressure treated sheds
Pressure-treated sheds (green tinge finish) are more durable and ideal for year-round use. They can hold up to whatever the British weather throws at them.
This makes an excellent option if you want to make the most of your garden room at all seasons. Although they're a bit expensive, you get what you pay for!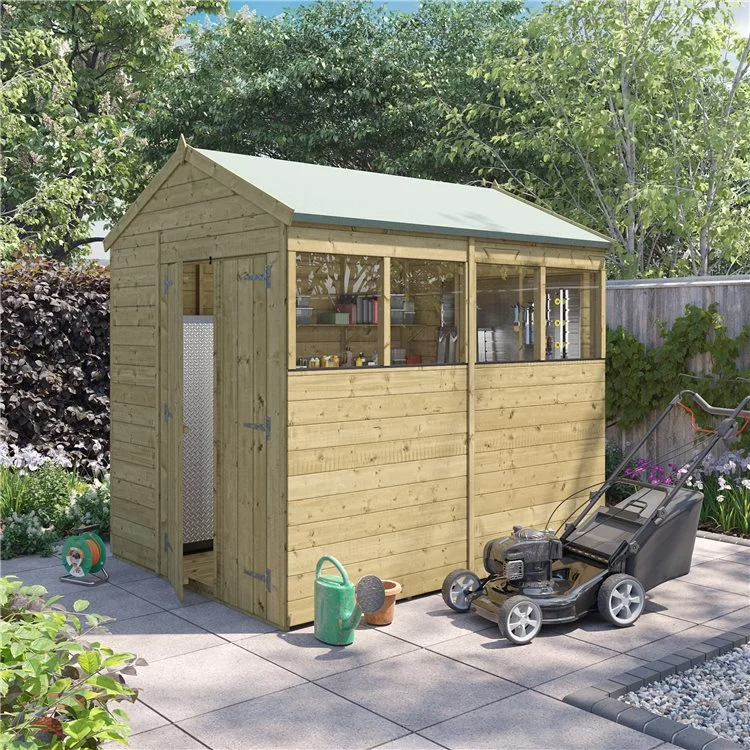 ---
Shed Room Ideas
A backyard alone already adds value to a home. But the addition of a garden building, like a shed, can double the worth. If not, triple or even more if the structure is well-designed.
Once you've picked your shed type, browse through these inspiring looks to fire up your imagination!
---
11. A she shed
Turn the inside of your humble shed into a relaxing retreat. A little hideaway for the ladies to call their own, a she shed adds a lot to a backyard.
Transform it into a garden house to achieve a relaxing, stress-free environment. Or into your dream cosy reading nook, literally, anything that reserves for your own use.
12. Pool house
Take advantage of your shed to complete your backyard retreat this summer. Utilise the space as a changing room with a shower area, an entertainment lounge, or a kitchen area with a bar.
A pool house is perfectly accented with sun loungers or hammocks.
13. Garden office
A mix of simple design and functional workspace! You can expand the space and create a patio where you can retreat during break time. A large window also allows you to enjoy the view of your garden while working.
14. Backyard pub
A clever way to enjoy alfresco drinks at home! This custom shed pub opens up, making it a perfect companion for small get-togethers in the open air. Add signs and bunting for flair.
15. Kids playhouse
If only playhouses like this existed when we were kids; so dreamy! But we'll just have to live vicariously through our own little ones. Whether new or brand new, a shed is a great starting point in achieving this fantasy!
16. Potting shed
Potting sheds offer a place to keep your potting soil, where you pot your new plants and start seedlings. It's where you can store your pot collection for easy access.
As a gardener, this is where you could take breaks and prepare the tools needed to perform the job.
17. Utility room
Consider moving a water supply to run in your shed and install a sink. You can regard this idea as an outdoor utility room of sorts and an extension of the indoors.
Fill the watering can, wash the old pots; the outdoor sink is worthwhile for any keen gardener!
18. All-weather multi-purpose space
You're lucky if you own a large shed that could serve as multiple rooms. Think of it as an extension of your home. Turn one room into a playhouse for kids, while the other is a den for grownups.
Come rain or shine, and you can enjoy a change of scene from the four walls indoors.
19. Outdoor hot tub
Outdoor hot tub ideas add instant luxury to backyards. Draw inspiration from this shed hot tub. The open-space layout makes the space airy and warm. Plus, with a mini garden bar area with stools at the side.
20. Tiny garden kitchen
Increase the living comfort in your garden house with a small kitchen. Add a sink, tiny cooking facility, a fridge and storage space for utensils and food. It's up to you which space you allow for the individual components of your outdoor kitchen.
Round-up
Even the simplest of sheds can serve as so much more than storage solutions. With the right shed type, it can become a home office, a playroom, a cosy snug for relaxing, or more!
This put-together guide list proves that you can do so much more with your shed. And we hope it will help you find the perfect shed type that suits your lifestyle. Most importantly, get started with your dream outdoor escapade!