Win a Gingerbead Junior Playhouse
Firstly, do you want your children to have the perfect, safe place to play? Or maybe you simply want them to spend more time outside? In any case, a playhouse could be the perfect option.
Not only a place to let the imagination run wild, playhouses can also make a pleasing addition to your garden.
Therefore, we have teamed up with Dad.Info to offer you the chance to win one of our popular BillyOh 6×4 Gingerbread Junior Playhouses. Dad.info is the largest advice and support website for fathers. Established in 2008, its aim is to celebrate the changing role of dads through helpful resources for every stage of their journey.
Enter the competition here
(Open until midnight, 09 April 2018.)
How to enter the competition
Terms and conditions
Why the Gingerbread Junior Playhouse?
The 6×4 Gingerbread Junior Playhouse is a fantastic playhouse which can capture the excitement and imagination of any child's playtime. The playhouse offers a range of unique features which could make it a great addition to your garden.
Single Storey Playhouse
Firstly, as part of the BillyOh Mad Dash 400 Gingerbread Playhouse Collection, the Junior has been designed in a traditional cottage style that will be just like the cottages in your children's favourite fairytale stories!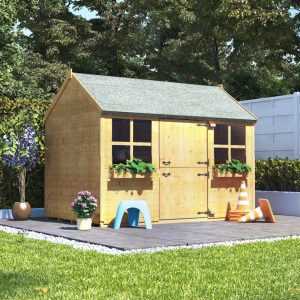 In addition, there is even a stable door to give the playhouse a country cottage look, perfect for dreaming up their own fairytale world to play in.
Two cottage style windows
The Gingerbread Junior playhouse also features two large fixed windows at the front of the playhouse. This helps to create a light and airy feel.
Plant up some pretty flowers in the two flower boxes located underneath the playhouse's windows. This will make the playhouse look beautiful in your garden as well as helping your children to learn about gardening!
Picket fence for added charm
The Gingerbread Junior Playhouse has all the charm of a fairytale cottage. But for added character, we offer you a choice of picket fences that will really make your building stand out.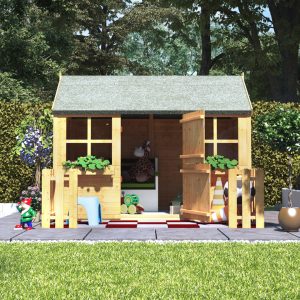 By choosing to have an additional picket fence, your playhouse will have its own enclosed space, which is great for storing toys and keeping your garden tidy. This extra feature makes your playhouse even more special and unique!
Supplied with solid sheet roof
Furthermore, the Gingerbread Junior Playhouse is supplied with a sheet roof, which is pre-cut and is easily attached using the fixings for a quick and easy assembly.
This material provides complete protection from the elements, meaning there is no way for water to get in. So, the next time it rains heavily, you won't have to worry about leaks in your playhouse roof!
Supplied with solid sheet floor
In addition, we supply a solid sheet floor as part of our standard Gingerbread Junior Playhouse package. The floor comes pre-cut to size and is simply attached to the floor joists, so all you need to do is lay it on the floor and build your way upwards.
The solid sheet floor is equipped to handle all domestic use and is a solid base for handling all of your children's toys!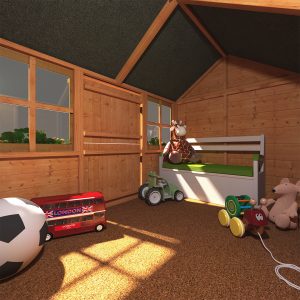 Fits through a standard door
Furthermore, to make the handover and delivery as straightforward and as possible, each one of our pre-engineered tongue and groove panels has been designed to fit through a standard door.
If necessary, simply transport the boards through your door front door to the garden for minimal fuss and stress.
Warnings and Recommendations
Warnings.
For domestic use only Use
Outdoor use only
Not suitable for children under 36 months
Maximum user weight is 50kg
Safety recommendations
Adult assembly is required, minimum of 2 people.
Children require adult supervision when using this product.
This product is safety tested to British standards BS-EN71 for domestic use.
A minimum clearance of 2m from obstructions or structures is recommended.
The building is assembled on a level surface with a minimum clearance of 2m from obstructions or structures.
How to enter the competition
So what are you waiting for? Enter the competition by answering one question and providing your information and you could be in the chance of winning a new playhouse!
Terms and conditions
The competition is open to UK (excluding Northern Ireland and UK island) residents only.
To enter the competition answer the question and fill out the form here
Offer is non-transferrable and no cash equivalent will be given.
The competition is open until 09 April 2018, midnight.
One winner will each receive a Gingerbread Junior Playhouse.
The prize may not be sold, offered for sale or used in connection with any other competition or promotion by the prize winner.
Prize can only be claimed when the above question has been answered correctly.
If the winner fails to respond within 48 hours of notification, the prize will be forfeited and an alternate winner will be contacted.
By entering the competition, the winners give consent for their name, contact number and address to be passed to a third party provider for delivery of the prize. Save for the exception above, the promoter will not pass any personal data to any third party unless required to do so by law or an appropriate regulatory authority.