As the number of people working from home continues to rise, with a notable shift from the traditional shared workspace to your own homemade office, the demand for an area which allows for maximum work efficiency is becoming increasingly essential. Working from home affords you plenty of flexibility, yet also comes with several complications and challenges.
One of these is keeping your professional and personal lives separate, which can be tricky when the physical gap between your workspace and home is removed, and the two consequently merge into one.
If you're looking for ways to get some peace in a hectic household, allowing you to concentrate on your work, then the Mia Pent Log Cabin office is guaranteed to provide you with a peaceful and comfortable working environment, giving you the freedom to make it your own garden office and work in comfort as a result.
Mia Pent Log Cabin Office
Boasting a modern style and pent roof, the Mia Log Cabin has been specially designed to provide you with a tranquil garden office, whilst also being able to function as a hub of tranquillity and relaxation.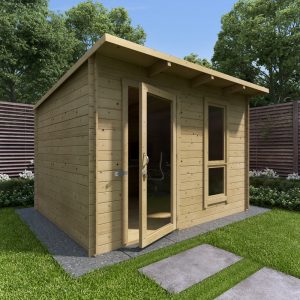 Floor to gable window and doors provide plenty of natural light and a view of your garden from within, while the contemporary pent roof gives you the compact space you need. No matter how you want to use your studio, the Mia offers the blank canvas to make it into your own.
What we admire about this log cabin building is the full-length door and window which is perfectly aimed at remote home workers. This provides an airy and bright, yet compact office space!
Paired with the contemporary design, the Mia boasts a modern-world working creative space in the comfort of your back garden.
Take Advantage of the Pressure-Treated Option
Maintenance is vital to ensure your log cabin garden office stays in excellent condition all-year-round. When it comes to upkeep for your garden building, pressure-treatment always comes in handy.
A pressure-treated log cabin office can firmly withstand any harsh weather conditions while at the same time, having a longer lifespan than its untreated counterpart. 
Not only will it leave you with a log cabin that's low-maintenance and cost-effective, but this also will help you save money and time in the long run, freeing yourself of maintenance worries.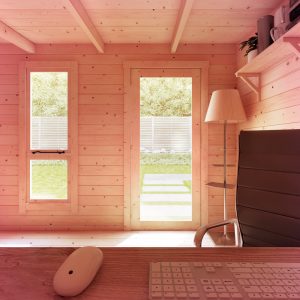 Fantastic Reasons Why the Mia Log Cabin Office Is a Great Work Space
1. Cost-Effective Build
Just like most of our garden buildings, the Mia Pent offers a much cheaper alternative solution to your garden office requirements. 
For instance, when you're planning to modify your home to incorporate office, the process will involve more substantial preparation and installation costs.
But with this log cabin, you can purchase it for only £1,199. In return, you'll receive an outbuilding which is designed with structural strength in mind, from the base to the cladding, so you can be safe in the knowledge your building will last for years to come.
Even better, it also provides you with a blank slate for you to decorate your garden office in your own design, and to suit your personal preferences.
2. Work-Life Balance
While working remotely offers a lot of perks, it can also lead to some challenges, such as time management, productivity and boundary issues, e.g. distractions from your family members and personal life after you've finished working for the day.
Without  a proper work-life balance, your home and work time may end up blending into one, which can be unhealthy and unproductive. But stepping out of your home and heading into the log cabin will act as a signal that you're about to do your work duties and will continue to do so while in your haven of productivity.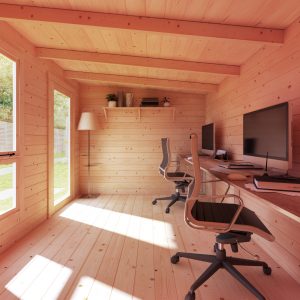 3. Easy to Assemble
Given the wooden materials used, log cabins are considered to be one of the most accessible types of garden building to construct in any garden setting. 
Even better, when purchasing from Garden Buildings Direct, the Mia Pent Log Cabin comes with a comprehensive assembly manual, to make sure that you'll never go wrong during the installation process.
4. Naturally Insulated
Whether or not you're working from home permanently, having an all-weather office is crucial. This is why wooden garden buildings are popular options for many.
Wood is a natural insulator, due to the air pockets within its cellular structure, and the Mia Pent Log Cabin is no exception. If you're planning to spend more time in your garden office, especially during the colder months, this building can provide you with the needed warmth.
5. Eco-friendly
Since log cabins are natural insulators, they hold up heat better during the colder months. The cellular structure also limits their capacity to conduct heat, which keeps the interior cooler during the summer months.
Limiting the need for artificial heating or cooling, makes the Mia into a more eco-friendly option. Not only that, but as a naturally-occurring material, timber also helps in removing and storing carbon dioxide from the atmosphere.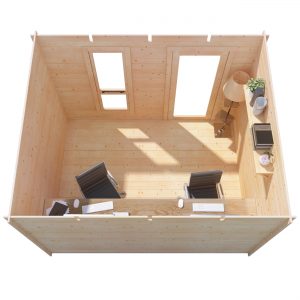 6. Strength and Durability
It turns out that wood also features an unbelievable amount of strength that will endure a lifetime if quality materials are used and maintained consistently throughout the years. As we mentioned before, wood should be treated for resistance against water rot, termites, and sun damage.
Nevertheless, this log cabin is exceptionally durable. It is guaranteed to withstand Britain's temperamental weather; including snow, frost and heatwaves, making it a perfect investment for your garden office!
7. Outstanding Quality
In addition to the Mia Pent being durable and solid, this outdoor building unit is also made out of high-quality wooden materials that will be used for many years to come. Here we use the highest spec timber available, in order to ensure that we're providing our customers with a product which is built to last.
Mia Pent Log Cabin Office
The Mia Pent Log Cabin is a fantastic option if you've found yourself working from home, but wish to move your work out of the house. Even if it's only into the garden, you'd be amazed as to the difference this very short commute can make for your mental health. Balancing your work and home lives can be a tricky task, but a garden office is absolutely one of the key ways to target this challenge.
This product has just been launched, so check it out here!