Garden buildings are no doubt an excellent alternative to extending your home, providing you and your family with additional space to relax in. From sheds and summer houses to log cabins – garden buildings are highly versatile, practical and above all, idyllic. Furthermore, they are stylish, cost-effective and able to be suited for almost any purpose, which makes them a worthwhile investment. A great example of this is our highly popular Tianna Log Cabin Summerhouse.
Tianna Log Cabin Summerhouse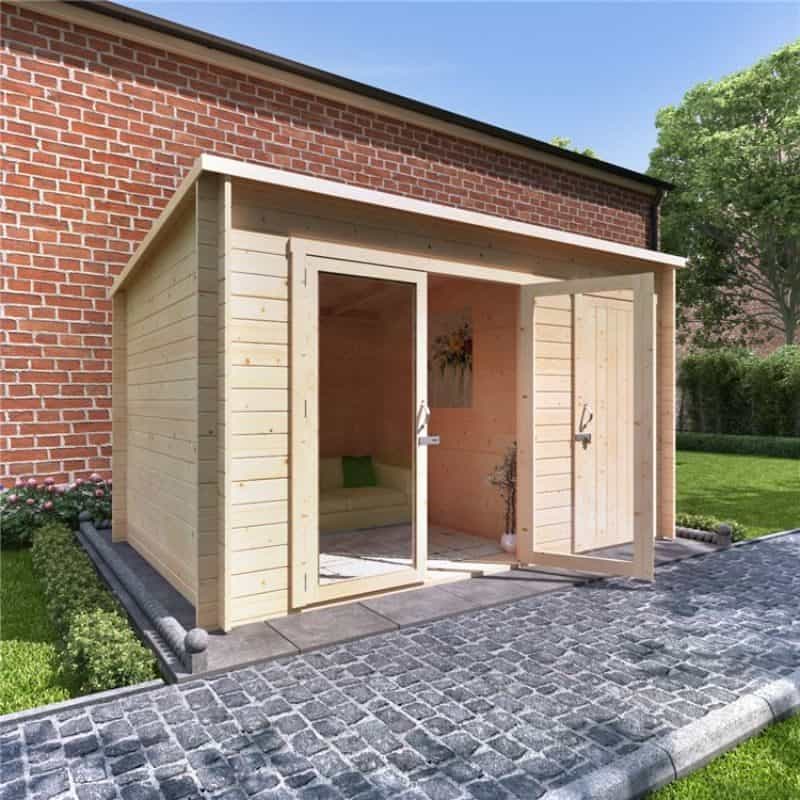 The BillyOh Tianna Log Cabin Summerhouse can offer your dream home extension experience! Sporting a modern and stylish design, the Tianna summer house has a contemporary pent roof and long windows which look fantastic in any garden setting, be it traditional or otherwise. 
With a multi-purpose design, the integrated storage is great for storing all your gardening items and equipment in one place, safely and securely out of sight.
What we like about this building unit is that it operates as both a log cabin and a summer house, and a storage area—thanks to the side store. With that being said, you can transform the Tianna into a garden office or a stylish relaxation haven.
Using Your Tianna Log Cabin Summerhouse as a Garden Office
While working remotely offers a lot of perks, it can also induce some challenges, such as time management, productivity and boundary issues e.g. your home and work life becoming harder and harder to separate.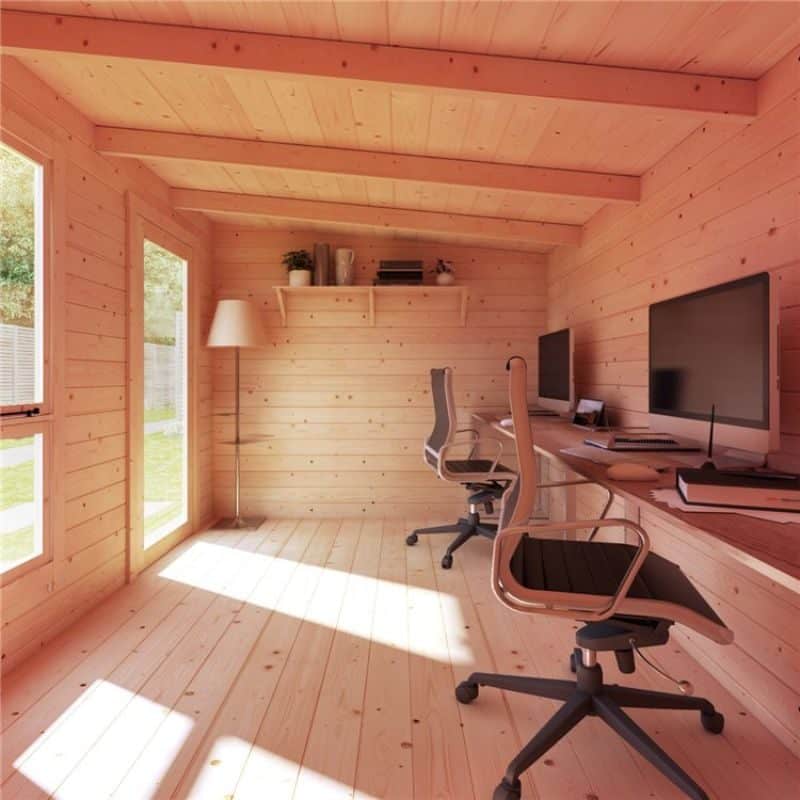 Without a proper work-life balance, it's easy to mix home and work time together, which can be unhealthy and unproductive. Hence, knowing how to set aside your professional life when finishing work for the day is crucial.
The Tianna log cabin summerhouse can provide you with a peaceful and comfortable working environment, giving you the freedom to make an office in your own design, thus creating the ultimate work environment.
Simply stepping out of your home and into your Tianna Log Cabin will feel as though you're making a work commute and are ready to take on your responsibilities for the day – despite only having to walk for 30 seconds to get to it. 
At the end of the day, you can leave work commitments within the Tianna, all ready for you the following morning.
Using Your Tianna Log Cabin Summerhouse as a Relaxation Haven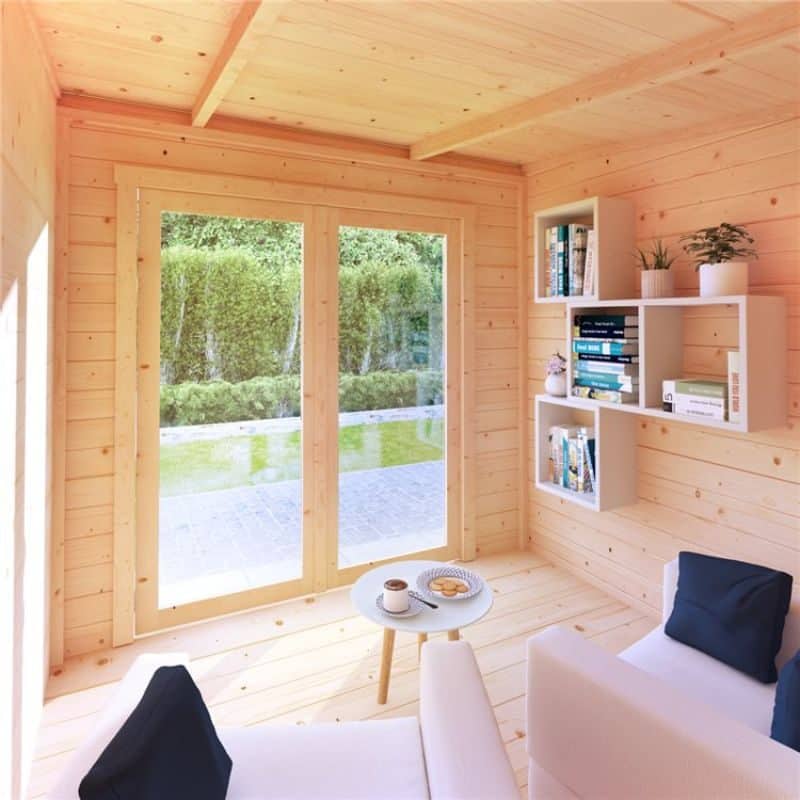 At a certain point in our lives, we all need an escape from the everyday chaos. This doesn't have to be an expensive holiday abroad. Sometimes, all you need is the perfect outdoor building that can provide you with a wonderfully cosy hideout.
With the Tianna log cabin summerhouse, you can customise certain aspects of the building to suit your individual tastes and needs. Invest in some comfortable seating, cushions and coffee tables to truly create your ideal garden retreat.
Whenever you feel the need to get away from the stresses of everyday life, you'll now have a place to relax in when wanting to unwind after a long and tiring day.
Pressure Treated Options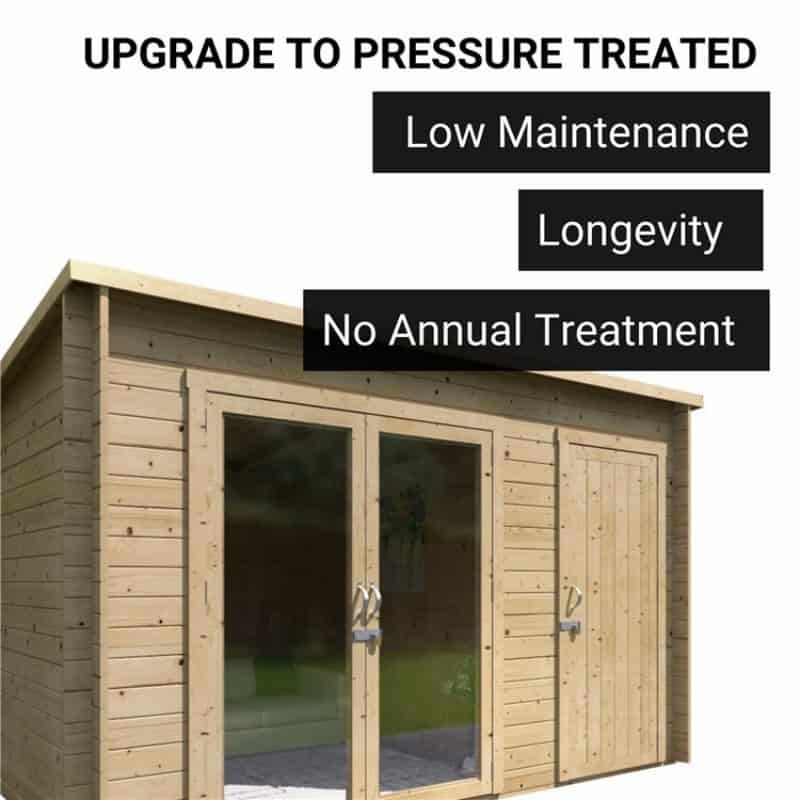 Maintenance is vital to ensure your log cabin office stays in excellent condition all-year-round. When it comes to maintaining your garden building, pressure-treatment always comes in handy.
Pressure treatment works by dipping timber into tanks full of wood preservatives, until they're fully immersed and coated. The process consists of drying the wood out naturally using a kiln or airflow.
The finished product of pressure treatment is incredibly rewarding. 
In order to protect your Tianna Log Cabin Summerhouse from the elements as much as possible, you can opt for pressure treatment. Opting for this will ensure your garden building maintains its stylish appeal all year round, no matter the weather condition.
Best Aspects of the Tianna Log Cabin Summerhouse
2-in-1 Garden Building
Modern pent design

Interlocking high quality timber boards

Integrated side storage

Attention to detail

Double doors for easy access

Shatter resistant windows

Tear-resistant felt
Designed For You
Easy to build

Pressure treated options lasts longer

Floor and roof as standard

Protected during delivery

Adaptable to any garden setting

Fixtures and fitting included

Full assembly instructions
1. Contemporary Pent Design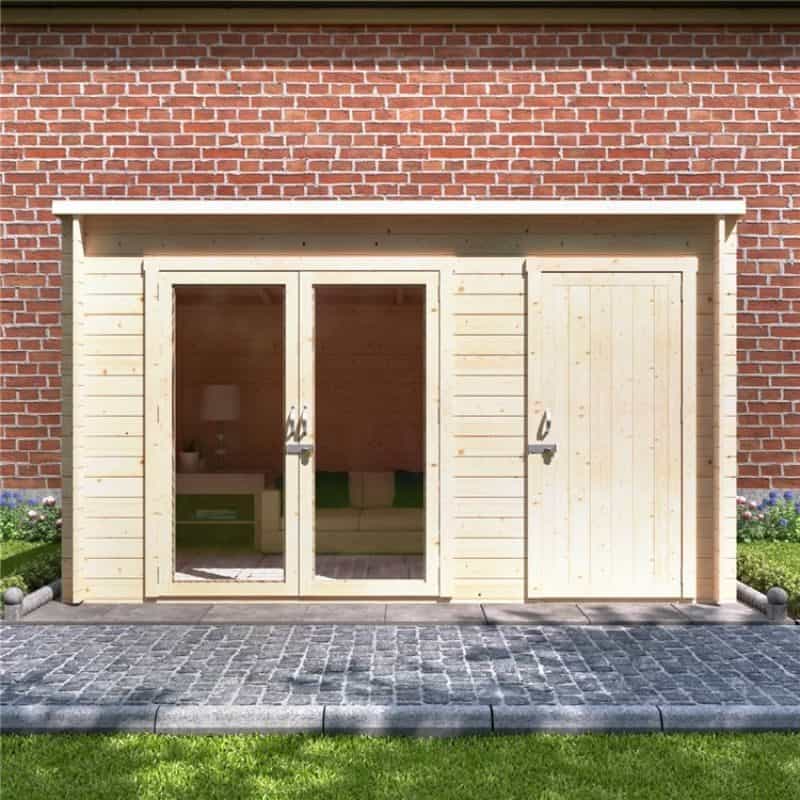 Designed to complement any modern or garden setting, the Tianna log cabin summerhouse features a modern pent design paired with a front overhang. This adds both style and practicality in terms of the overall design of the structure.
2. Modern Front Overhang
One of the stylish features that this log cabin summerhouse unit boasts is its contemporary front overhang. The overhang allows much needed shade that can be very useful during the hot summer months.
At the same time, it also can be handy during rainy seasons and colder months. Overall, the modern overhang enhances the contemporary look of the building, whilst also providing a unique and stylish feature that other building units don't have.
3. Solid Interlocking Construction
The BillyOh Tianna is constructed using solid interlocking Tongue and Groove cladding, ensuring the overall building structure is packed with strength and plenty of durability. The interlocking nature of T&G works effectively to keep the building protected against the harsh elements.
With this model, we offer a choice of 19mm and 28mm cladding for both 12×8 and 14×8 sizes. This will allow you to choose the perfect size and orientation for your garden and needs.
4. Integrated Side Storage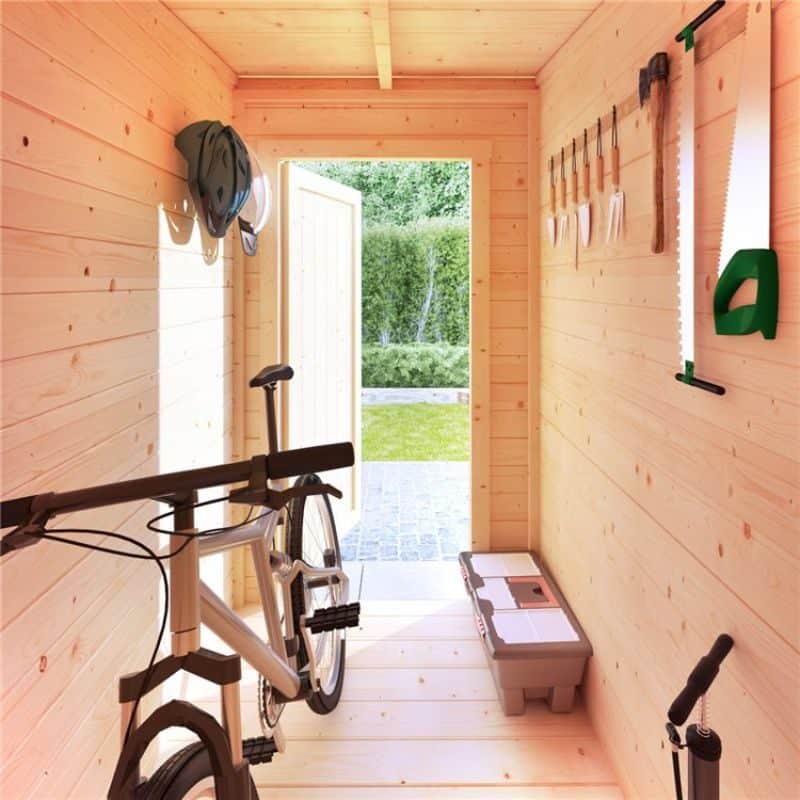 Another thing that we like about the Tianna is that it's designed with a side store, combining two types of garden building into one fantastic product; it's a stylish log cabin summerhouse and at the same time, a garden storage unit!
Not only will you have a log cabin summerhouse in which you can relax and enjoy some quality time with your loved ones, but you'll also have a storage unit which is ideal for storing away all of your garden essentials, furniture and office supplies. It's a win-win!
5. Strong T&G Floor Options
This log cabin also comes with two floor options: 11mm and 19mm T&G boards.
The 19mm floor option is supplied with a pressure treated bearer which makes the building's floor equipped for heavy duty use. The 11mm T&G, on the other hand, is suitable for standard domestic use.