Sunflowers are incredibly easy to grow in summer borders and children's gardens. They can grow to overhead height with big flower heads in bright yellow, or make shorter, bushier plants with yellow heads.
They are great for our gardens as they attract bees and birds, which devour the large seeds. If you are a novice to growing Sunflowers at home, we've put together all the information you need to know about this wonderful flower to get you started.
Keep reading if you'd like to find out about;
Recommended varieties for you to grow at home

When to plant daffodils

How to plant daffodils

Useful growing tips

Solutions to common problems
Recommended Varieties to Grow at Home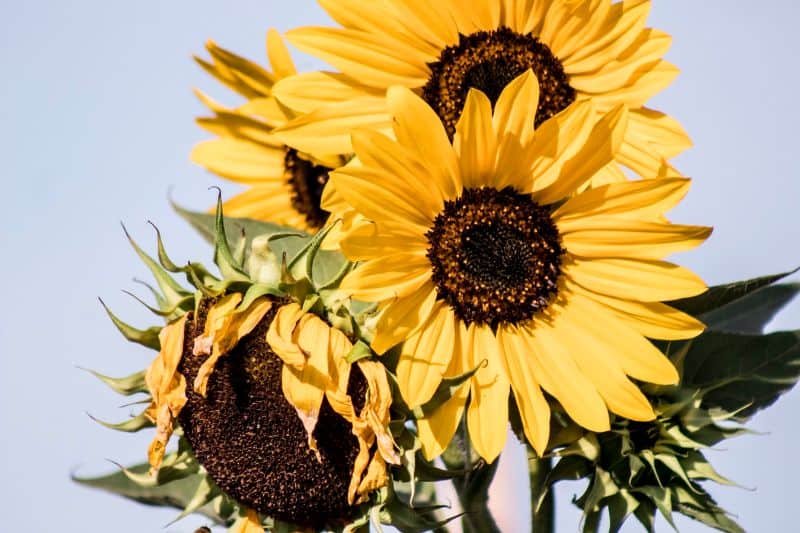 Since the vast majority are annuals, check seed catalogues in spring and buy a wide selection. They can either be grown in forest-like clumps; in rows to make summer screens; as surprise features in cottage gardens; shooting high above much smaller plants; or for their cut flowers.
H. 'Moonwalker'

: grown for its yellow face with a chocolate dark centre; best at the back of a border where it reaches a height of 1.2m to 1.5m (4ft to 5ft).

H. 'Pastiche'

: available in mixed shades of reds, yellows and buffs which nicely blend together. The flowers appear on multi-stemmed plants that make a very effective screen – from 1.2m to 1.5m (4ft to 5ft) high.

H. 'Russian Giant'

: the one to get if you want to be in the record books. Capable of hitting 3m (10ft) high with a huge face of yellow petals surrounding the dark centre. Spectacular.

H. 'Velvet Queen'

: sumptuous velvet-red petals surround chocolate centres on tall, free-flowering growth to 1.5m (5ft) high.
Smaller Sunflowers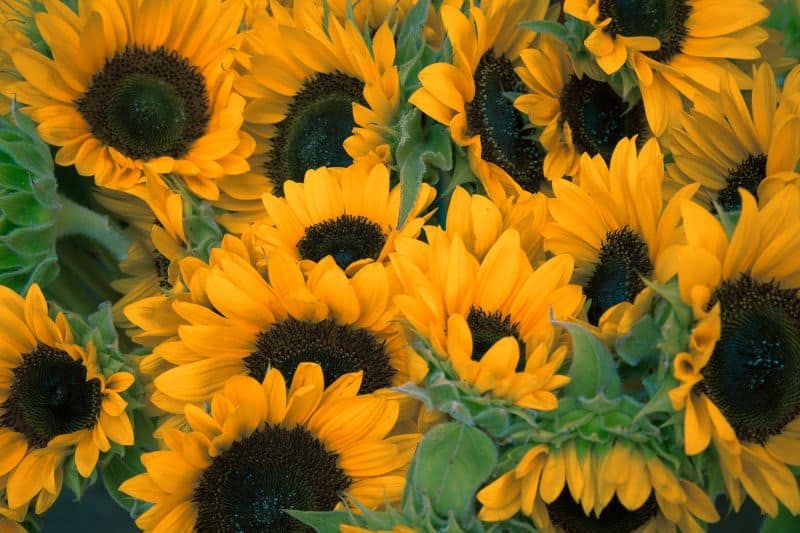 There are several smaller plants that flower at about the height of a child. Grow in containers or at the front of a border.
H. 'Big Smile'

: an aptly named midget that won't grow above 30cm (1ft) high.

H. 'Teddy Bear'

: produces downy, double blooms without a central zone on short stems. Good value; 60cm (2ft) high.
Pollen-free Forms
Pollen-free hybrids, mostly from Japan and Europe, have been bred for flower arrangers who want to avoid pollen stains. They usually have shorter stems than the ones with pollen and are much easier to use in floral arrangements.
H

. 'Music Box': its flowers range from creamy yellow to an unusual dark reddish-brown; 70cm (28in) high. Other good choices include 'Big Smile', 'Full Sun', 'Sonja' and 'Sunspot'.
Growing Tips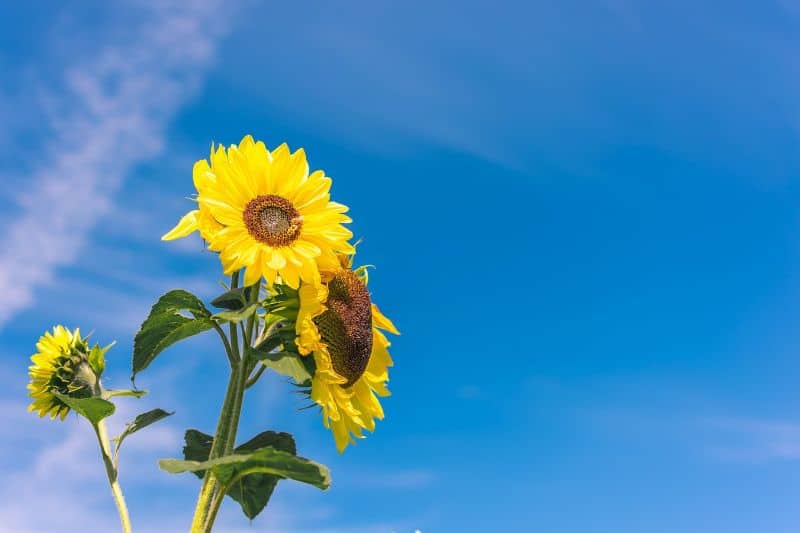 Site and Soil Preferences
Average to fertile soil under a hot sun. You may want to consider a greenhouse, in order to be able to provide the best growing conditions for your plants.
Direct Sowing
Sow seed 5cm (2in) deep and spaced 45cm (18in) apart in borders. Water seedlings regularly and, when growing tall forms, feed sparingly with a liquid fertiliser when 60cm (2ft) high. Avoid splashing water or fertiliser solution on the stems or leaves.
Starting in Pots
Use 7.5cm (3in) pots and a good sowing compost. Sow one seed 2.5mm (1in) deep per pot. Water and either cover with polythene or bubble plastic to retain the heat, or place pots on a heated bench or in a propagator with the temperature set at 13°C (55°F).
Remove the covers when the leaves appear. Plant seedlings outside when they are large enough to be handled and the root system is well developed. Add garden compost to the soil if it is heavy or infertile.
Cutting Flowers
Growing sunflowers for cut blooms is best done in a section of the garden put aside especially for this use. You can then take as many as you wish without spoiling the display. Because high yields take priority over beauty, plant the seeds closer – 20cm (8in) apart – and avoid using nitrogen-rich fertilisers that promote leaf production at the expense of flowers. Average soil is best, the aim is to encourage more flowers than leaves.
For continuity of blooms for floral arrangements, sow a succession of sunflowers every fortnight for six weeks in the early part of the growing season. In the hot summer, each cycle from sowing to blooming will take about 60 days.
Pick flowers early in the day, but wait until the sun has dried the dew. Remove leaves that are low on the stem, leaving just two or three higher up, near the flower's face. Place the flowers in a bucket filled with water, and leave them to stand for several hours in a cool room before placing in a vase. Change the water every few days. Blooms can last up to a fortnight when kept in water.
Problem Solver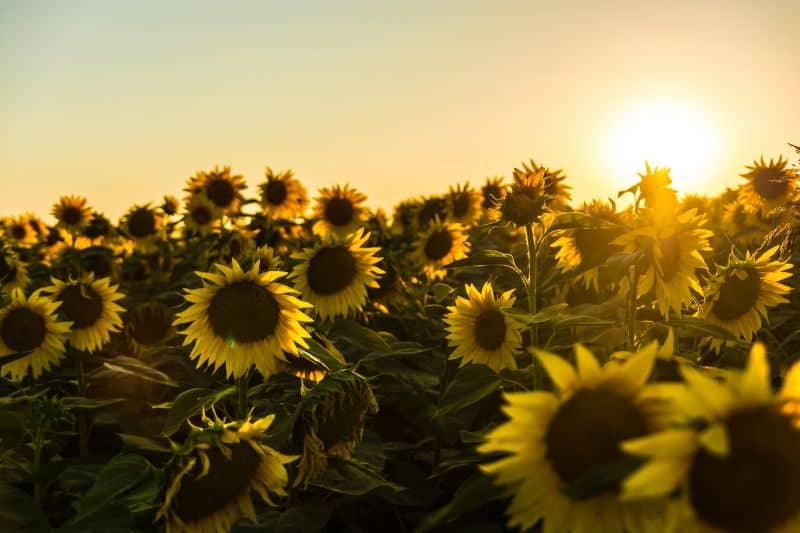 In exposed, windy sites the taller kind with giant flowers must be staked or they'll end up at 45° to the ground. Also, beware of pigeons and slugs when they are still young plants.