Sheds are one of the versatile types of garden building. They can be utilised as an outdoor getaway, a DIY workshop, or as a storage space for gardening tools and equipment. There are a number of shed transformations which can be performed to create a shed which is unique to you!
Garden buildings are considered to be a vital element in every outdoor space, so neglecting your shed, no matter what the season or weather, can decrease the overall value of your garden space.
Because of this, spending some time making your shed feel like an extension of your home will be a worthwhile and highly rewarding task. Transforming your shed doesn't have to be expensive, though.
All you need to do is consider the cheap methods for getting your shed ready for 2021. Our shed transformation guide will help you to start revamping your garden shed in a cost-effective way. Let's get started!
Shed Transformation 101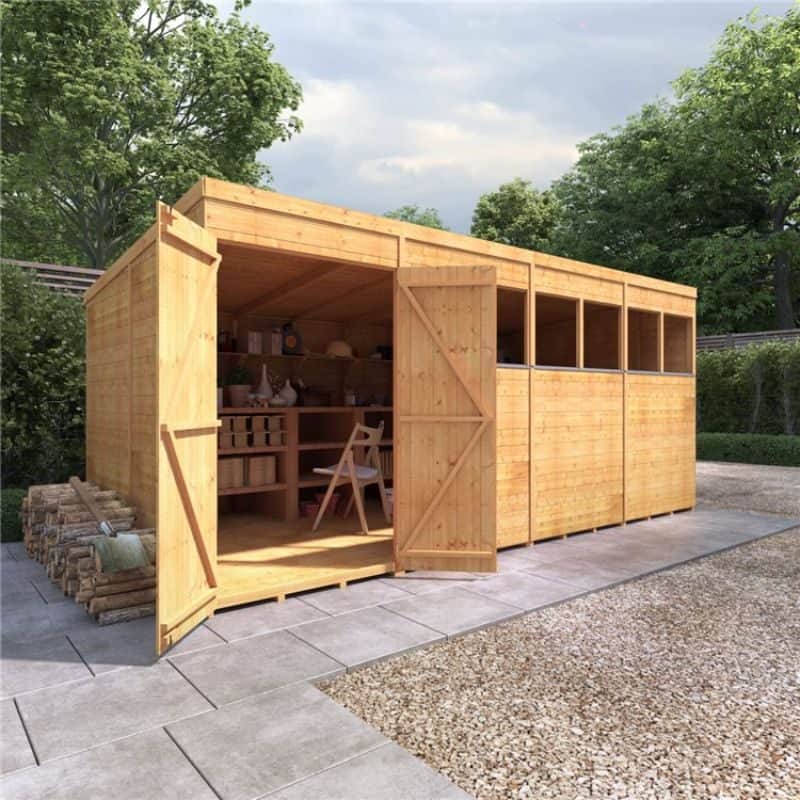 If you're thinking about re-purposing your shed, this is the perfect time to do it. Here, we've curated some cost-effective ways and ideas to breathe new life into your shed.
Shed Transformation #1: Clear It Out
If you've been using your shed as a storage space for outdoor equipment and excess home supplies, you can start by sorting out everything to make your shed look bigger. We advise grouping all of your tools, equipment and other stored goods, then sort out what you use regularly.
Then you can dispose of anything that's broken or that you rarely use. Sort what remains into three piles, depending on how often they get used. For instance, if you use your gardening tools regularly, place them somewhere that they can be easily grabbed. On the other hand, your Christmas decorations can be stored in a box and hidden away for the majority of the year.
Tip: When repacking your shed, it's be best to organise the least used items and position them towards the back. This will give you better access to things that you regularly use while at the same time, saving you from digging around and preventing your shed from being untidy.
Shed Transformation #2: Identify the Issues and Repair Them Right Away
If your garden shed has been sitting around unused for some time, the first thing you need to do is repair any issues right away, to prevent the structure from getting worn-out. Repairing includes fixing any leaky roofs, broken windows, rotting wood, or uneven floor boards.
Having a solid and reliable garden shed will ensure that the rest of the building will run smoothly throughout the year, causing less damage and headaches in the future. You're free to do the repairs on your own, but if you think you need a professional's help, don't hesitate to hire one to get those repairs done as soon as possible.
Shed Transformation #3: Storage, Storage, Storage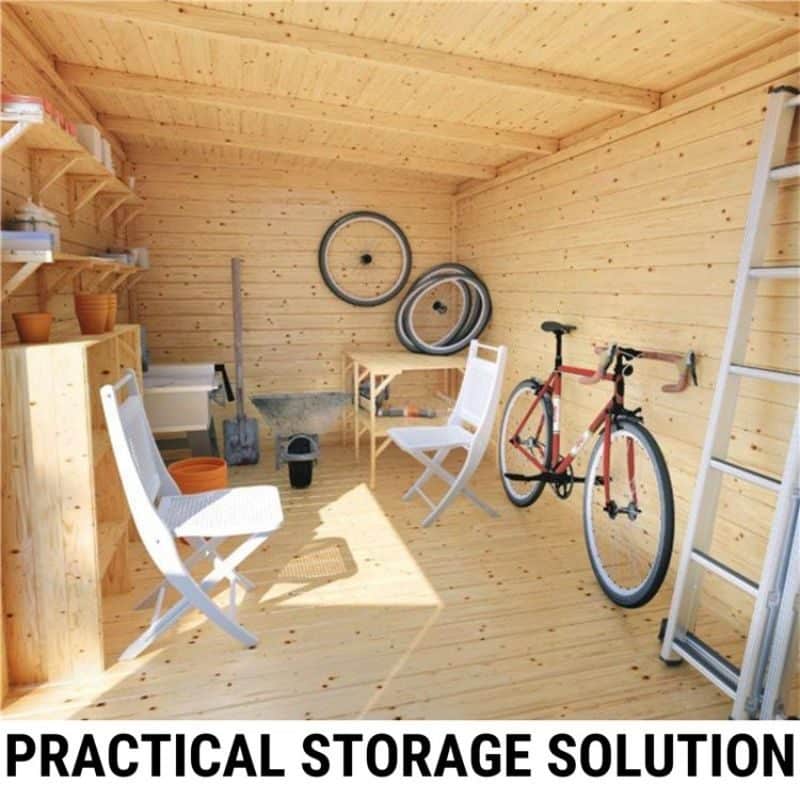 Consider investing in or creating some storage solutions before you pile everything back into your shed. We suggest using shelves and hooks to clear your floor, in order to give you as much free space as possible.
Cupboards and chests of drawers make an excellent storage space alternative as well. Not to mention that they can double up as workbench and potting station as well.
An open shelving unit is a great way to utilise a tall shed. Building shelves upwards means you have more room in the building to work or walk around.  Another way to utilise the walls of the shed for storage is by using wall-mounted pegboards. These can hold all your stationery for your home office or your gardening tools, keeping clutter off the floor in the process.
Shed Transformation #4: Install Thermal Insulation
If you wish to use your shed all year round, investing in thermal insulation is an excellent idea. Insulation is designed to keep your building structure cool in the summer and warm during the winter.
It also makes your shed more energy efficient, which helps you save money on heating your shed in the wintertime. Consider investing in some insulated walls and underfloor heating as well! 
Shed Transformation #5: Opt for PVC-U Doors and Windows
Another way to keep your shed cool during hot summer days, and warm in the colder months, is to fit PVC-U windows and doors in the building structure. 
Also known as un-plasticised polyvinyl chloride, PVC-U is a type of hard plastic material which is resistant to pollution, moisture, corrosion, and mould. Commonly used in windows and doors, this offers a longer lasting alternative to timber and aluminium window frames.
In addition, windows and doors made out of PVC-U are manufactured to the highest level of security, ensuring that you can be safe in the knowledge that your possessions inside your shed are protected at all costs.
Here are the other advantages of having PVC-U windows and door installed in your shed:
Durable

Termite-free

Low maintenance

Eco-friendly

Proper drainage system

Great insulation
Shed Transformation #6: Run Electricity
If necessary, consider adding electricity to your shed so you can get a lot more use of it. Having a source of electricity in your garden building lets you work on projects with power tools, achieve your dream home cinema, add a mini fridge so you can enjoy your favourite drinks while relaxing, and more!
Note: You'll want to make sure to ask a professional to carry out any electrical work, especially if you're not experienced in this field. Let them know how many sockets and light switches you need and all the equipment you'll be running off the electricity.
Shed Transformation #7: Decorate It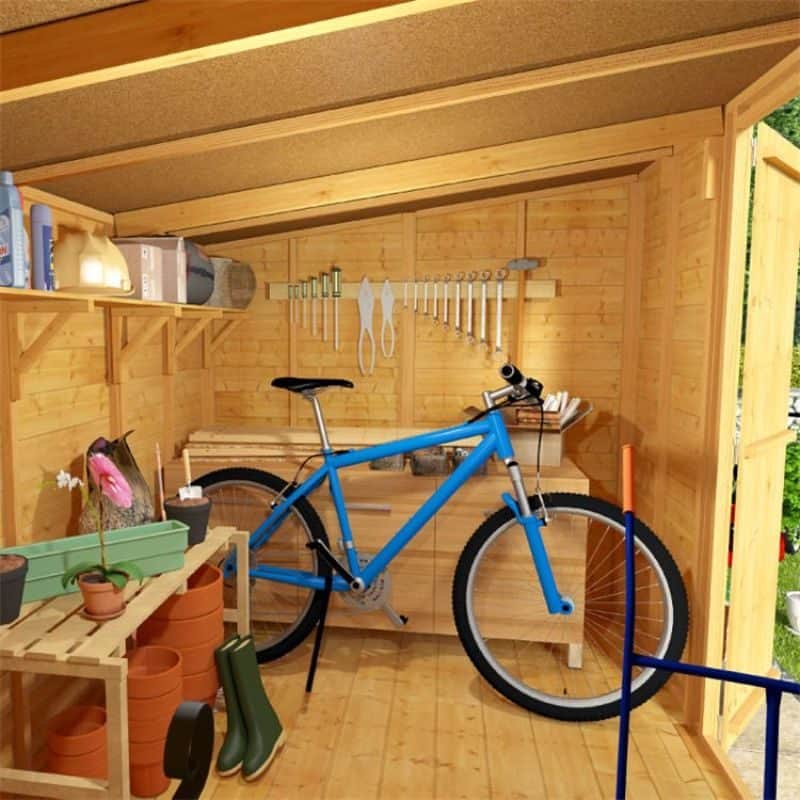 Other than storage, finding additions for your shed can help it to serve multiple purposes, such as a desk for your garden office.
Add soft furnishings to decorate your shed as well. Put in some colourful fabrics or plain curtains in the window to create a summer house vibe. Little decorative additions such as this are a great way to spruce up your wooden shed and turn it into a striking feature within your garden.
Shed Transformation #8: Treat Your Shed
Timber can absorb water and as a result, it tends to shrink as it dries out. If warping occurs, then this can weaken the overall structure of your shed. But with good quality wood treatment, your building can be protected against the harsh elements. What's more, it can help save you money on repairs down the line too!
To save yourself from any future hassle, we suggest getting pressure treatment for your wooden shed. A pressure-treated garden building can firmly stand up against any harsh weather conditions while at the same time, having its lifespan extended beyond that of its untreated counterpart.