Rattan garden furniture has been a popular choice in Britain for hundreds of years. With synthetic versions available in a range of styles and designs, nowadays rattan garden furniture is the perfect accessory for relaxing outside with family and friends, as well as dining alfresco and entertaining guests.
What Is Rattan and Where Does It Come From?
It is a vine-like liana, a member of the palm family, which can grow to almost 2,000ft in the forests of Malaysia, Singapore and the Philippines. The history of rattan furniture reaches back 200 years ago when it was first imported to Britain from the Far East. Rattan furniture was mainly used in conservatories and drawing rooms and became hugely popular in the 19th and 20th centuries.
Synthetic Rattan as a Modern Alternative
Although rattan is a tough and versatile material, it won't last long if subjected to harsh weather. These days, we have the choice of synthetic rattan furniture, which is well equipped for the outdoors and offers a durable alternative to traditional rattan.
When furniture manufacturers realised weaving garden furniture in synthetic fibres, had the comfort and look of rattan furniture, they also realised it was durable enough for the outdoors.
Benefits of Synthetic Rattan Garden Furniture
Little maintenance

– A great advantage of rattan garden furniture which is constructed from synthetic fibres is that it takes little effort to keep clean and look great all year round. Simply wipe clean or wash down with a hose.

Complement your garden

– Unlike wooden rattan which has a wooden finish in one colour, synthetic rattan comes in a variety of colours to suit your garden. It offers a great solution to match with existing garden furniture.

Weather-resistant material

– Synthetic rattan makes ideal use for garden furniture due to its weather-resistant properties. It is UV protected, which means it won't fade in the sun and it is durable enough to withstand being outdoors in bad weather.
How to Choose Your Rattan Garden Furniture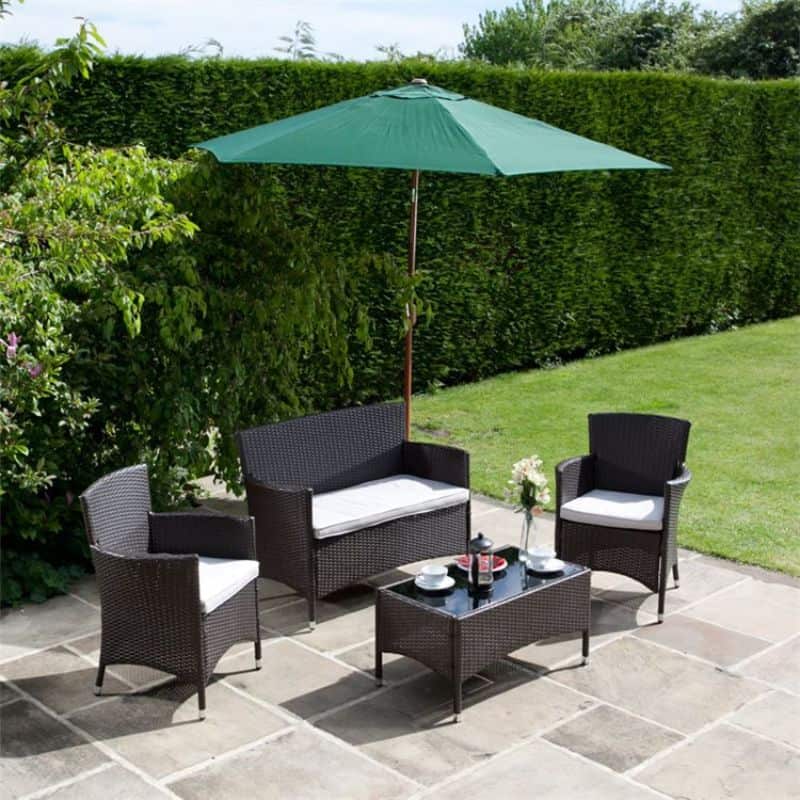 Choosing garden furniture isn't always easy. If you're looking for a furniture which is lightweight enough to move around but also sturdy and comfortable, rattan is a perfect choice for your garden. Synthetic rattan is available in half-wave and flat-weave designs, which look modern and stylish in any garden setting.
If you have a small garden or just a patio or balcony, compact garden furniture such as a rattan bistro set will provide a great spot in the garden for you and a friend to sit and chat or enjoy a drink on a summer's evening. On the other hand, if you have a large family or love to host garden parties, you may need extensive seating for your garden.
Sofa sets and rattan dining tables are perfect for dining alfresco, relaxing or entertaining. Synthetic rattan garden furniture can suit anyone's garden and style. Plus, it is a durable and stylish alternative to traditional material.