Some pinks have been grown for centuries. Plants of D. plumarius were brought to Britain in the 11th century by Norman monks and can still be seen surviving on castle ruins.
By the 19th century, there were hundreds of varieties, one of the most famous being raised in 1868 by Mr John Thomas Sinkins, the Master of Slough Workhouse. His heavily scented double white 'Mrs Sinkins' was named after his wife and is still a big seller.
At the turn of the century, the Sussex nurseryman Montagu Allwood tried to improve the pinks' short flowering season. He eventually hit upon a new, robust breed named D. allwoodii which repeat flowered. 'Doris' is the best known and, 50 years later, is still incredibly popular.
When deciding which ones to grow, note that they come in single colours and mixes, some of which are quite flashy; for example, the yellow and red 'Bookham Fancy'.
Here are the recommended varieties: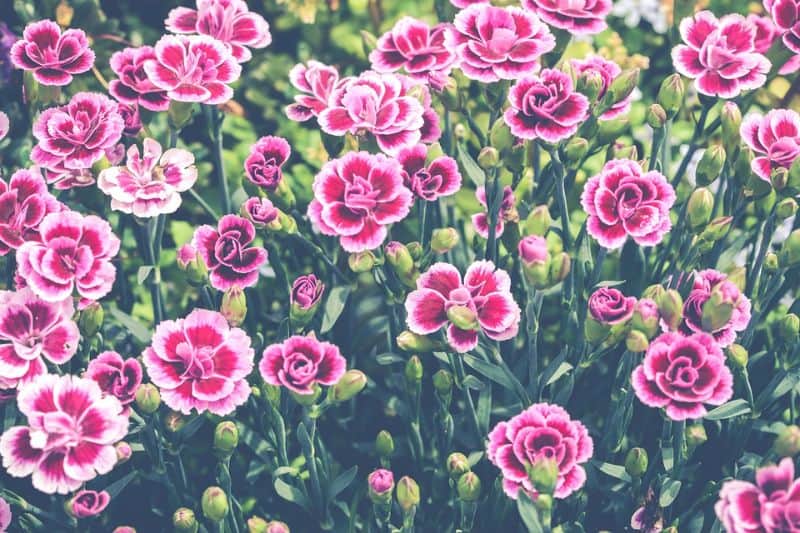 D.

'Bat's Double Red': a good choice because its flowers last well into autumn.

D.

'Bovey Belle': the bright pink flowers are held up by long stems. Makes a vigorous show with a decent scent. Has been awarded the Royal Horticultural Society's Award of Garden Merit (AGM).

D. 'Doris'

: a lovely mix of pale pink with dark pink right in the centre. Has also been awarded the AGM.

D. 'Gran's Favourite'

: a raspberry-ripple ice-cream effect with white flowers edged with streaks of mauve; scented. Also awarded the AGM.

D. 'Joy'

; a bright red, well held up on strong stems. Awarded the AGM.

D. 'Pike's Pink'

: the short, 15cm (6in) high flowers are pale pink and dark at the base, with a gentle scent. Awarded the AGM.

D.

'Sops-in-wine': has highly scented white double flowers.
Growing Tips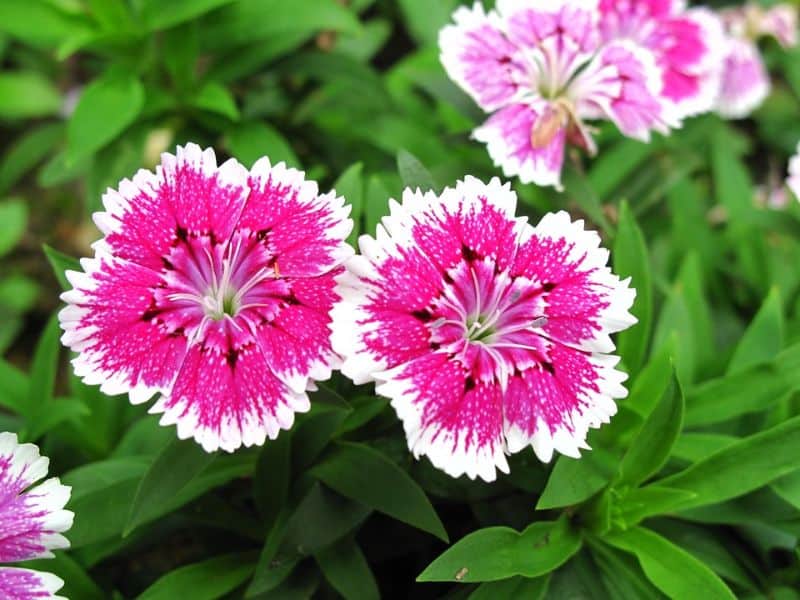 Site and Soil Preferences
Free-draining, preferably limy soil is absolutely essential, in full sun. Although some dianthus species can survive in walls and rocky outcrops, most pinks need fertile soil to produce a worthwhile display.
Containers
Containers make a great short-term home for pinks, where they flower profusely for a couple of years, but they'll eventually get tired and unproductive. 'Doris' can be used effectively in window-boxes to give a cascading display.
Aftercare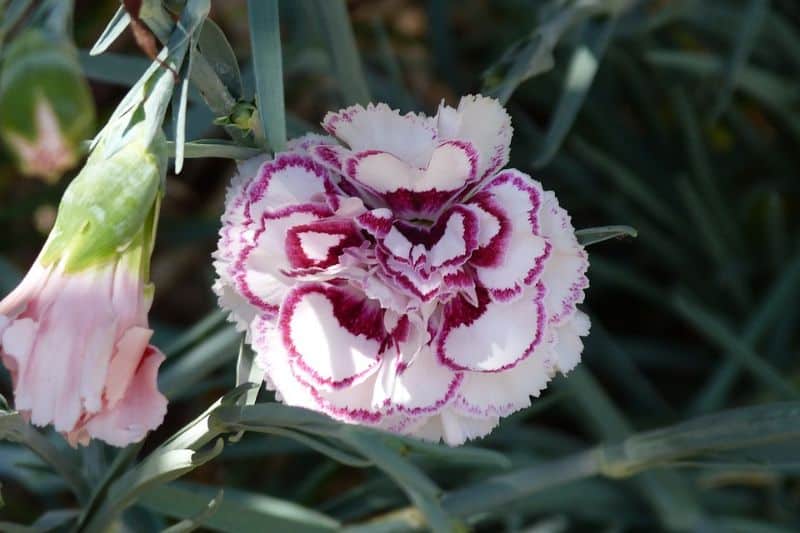 Young plants need watering during prolonged dry spells until they're well established, especially if kept within a greenhouse. After a few years, all pinks begin to look straggly and should be given a severe prune after flowering.
Encourage new growth by applying a handful of general fertiliser around the plant and a mulch of gritty compost.