Searching for a quality shed is quite difficult. You need to consider the size, design, security and build, strong enough to stand for longer years.

We talked to Carlos who purchased the BillyOh Expert Tongue and Groove Apex Workshop and he shared how he carefully looked up the options online and what helped him decide in buying the Expert Apex Shed.
What made you purchase your building from Garden Buildings Direct?
I had a good look at the offer online and your products seemed to be of high-quality specs and I liked the design and instructions. Feedback for your company is also positive so I was inspired and confident. I liked how your website is organised with many options to choose from.
Why did you choose the Expert Tongue and Groove 16×8 Apex windowed?
I was looking for T&G as I believe it is of higher quality and will last longer. I was able to personalize my choices of floor, room, and size. This shed needed to fit in my side garden and I was able to build a base that fitted my needs.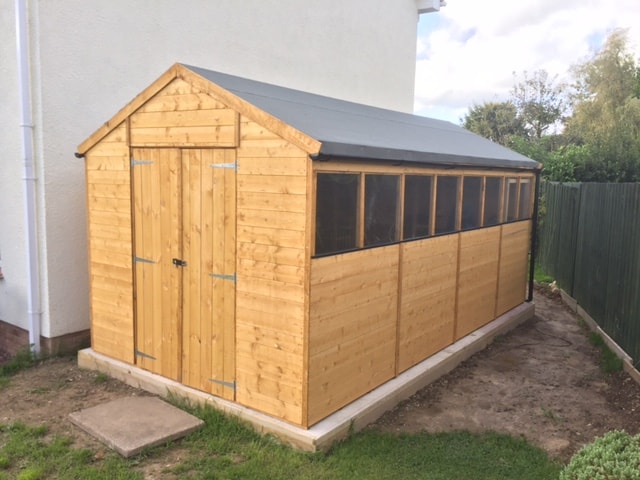 How was your customer experience?
Generally very positive. The driver was very helpful and nice so broadly happy.
Putting the shed up was time-consuming and I think you needed some experience with woodwork to do it properly. Instructions were very clear and easy to follow. The shed is of good quality but I made a few adjustments: I added extra fixings to the top of the windows to make it more stable. I also reinforced the doors by adding extra wood to fit a proper lock.
How are you finding the shed now?
Very good. I have built shelves for storage and I am able to store quite a lot of stuff I had in the loft and spread around the house. All my kids' equipment gear (hockey, cricket, etc), extensive camping gear, books, etc are neatly there – very happy to clear my porch and my small tool shed as well.
I really like the high wooden roof and the fact we can walk without having to bend down. The windows give the shed nice daylight and I can actually use part of the shed as a greenhouse as well.
Would you recommend buying from us?
Yes, I will definitely do that. I think quality pays in the long run and it is worth paying the little bit extra to get the shed you really want.
How did you decorate it and what paint did you use?
I have added drains but have not painted it yet. I will eventually put some protective paint but I am thinking to go clear as the natural wood looks great.
Building a shed does not require special skills. With its watertight floor and heavier weight, wooden sheds are safer and less subject to wind damage. Carlos was able to personalise his shed and made enough storage for his stuff.
Make a space at home and let your shed stores some of your stuff from bicycle, tools, equipment, gear and more. Grab your own shed now! Check out our variety of sheds from wooden, plastic and metal that will definitely fit in any type of garden.
More Customer Stories:
The BillyOh Master T&G Pent Shed Stories
BillyOh Master Apex Stories
The BillyOh Potting Shed Stories
BillyOh Master Apex Shed Stories
The BillyOh Combo Pent Metal Shed Stories