A garden shed is a quintessential element of the UK's cultural makeup. A high-quality shed can be a haven of garden activity for years to come, providing a spot to relax in, engage in DIY activities or merely an area to store your garden tools. Garden Buildings Direct offers a fantastic range of garden sheds with free and fast delivery. In fact, we even offer a number of sheds which we firmly believe to be our best garden sheds!
These sheds come in three unique materials – wooden, metal and plastic – and offer an assortment of designs and styles, helping to ensure that we provide the shed which will flawlessly suit your home and garden; whether it be big or small, traditional or ultra-modern.
In this article, we'll be discussing the best garden sheds that Garden Buildings Direct has to offer – ones which are suitable for gardens of all shapes and sizes!
This article will assist you in picking the absolute best shed!
Garden Buildings Direct's 9 Best Garden Sheds
1. Best Garden Sheds: BillyOh Expert T&G Reverse Apex (Price: £1069.00)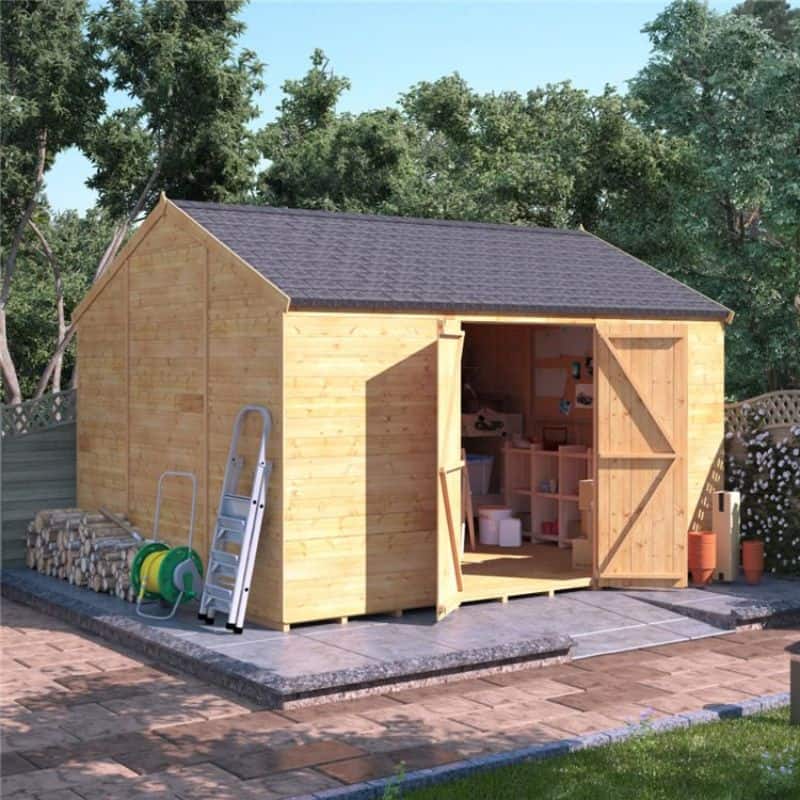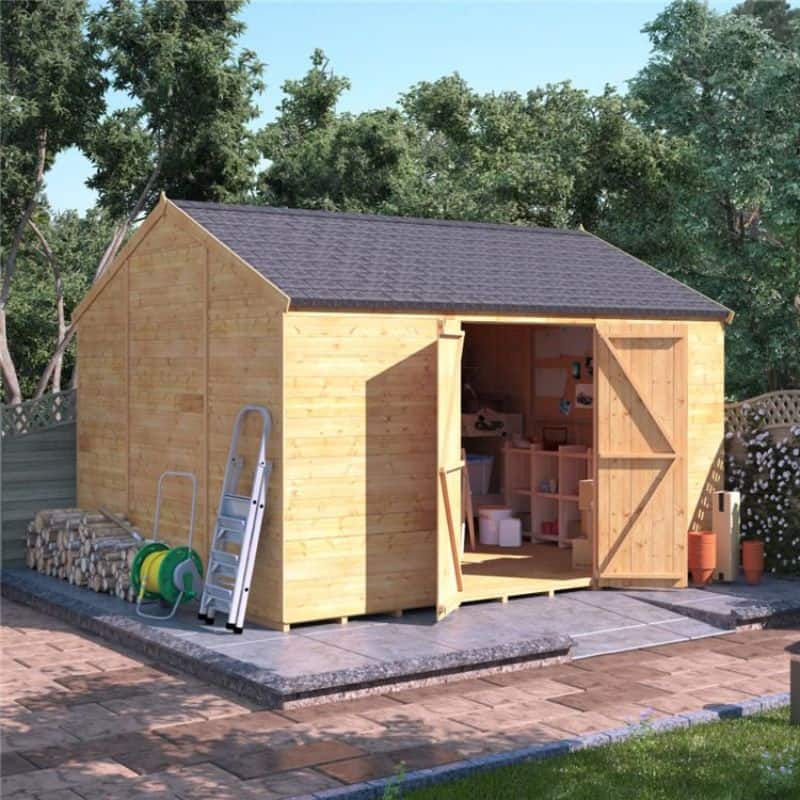 The BillyOh Expert T&G Reverse Apex Workshop represents the perfect garden building if you have intentions of spending more time working in your garden. The abundance of space provided by this garden shed means that you'll be more than capable of pursuing hobbies or DIY projects which previously weren't feasible, due to a lack of space.
What's more, this garden building can also be utilised as a means for garden storage. Thanks to the provided space, you'll be able to comfortably fit all your essentials inside, including lawnmowers, bikes, garden tools and more!
A combination of strong construction and tongue and groove cladding (which allows two flat pieces of wood to be joined together, to create a single, strong piece) means that this is a highly durable shed would be an excellent addition for any garden able to house it.
Almost all of our garden sheds come available in a range of sizes, and it's no different here. The sizes available on the Expert T&G Reverse Apex Workshop are:
12 x 8 – £835.00

12 x 10 – £1,069.00

16 x 8 – £1,705.00

16 x 10 – £1,260.00

20 x 10 – £1,295.00
With such an extensive choice in this regard, finding the shed which is ideal for your needs is a near certainty.
2. Best Garden Sheds: BillyOh Expert T&G Apex (Price: £689.00)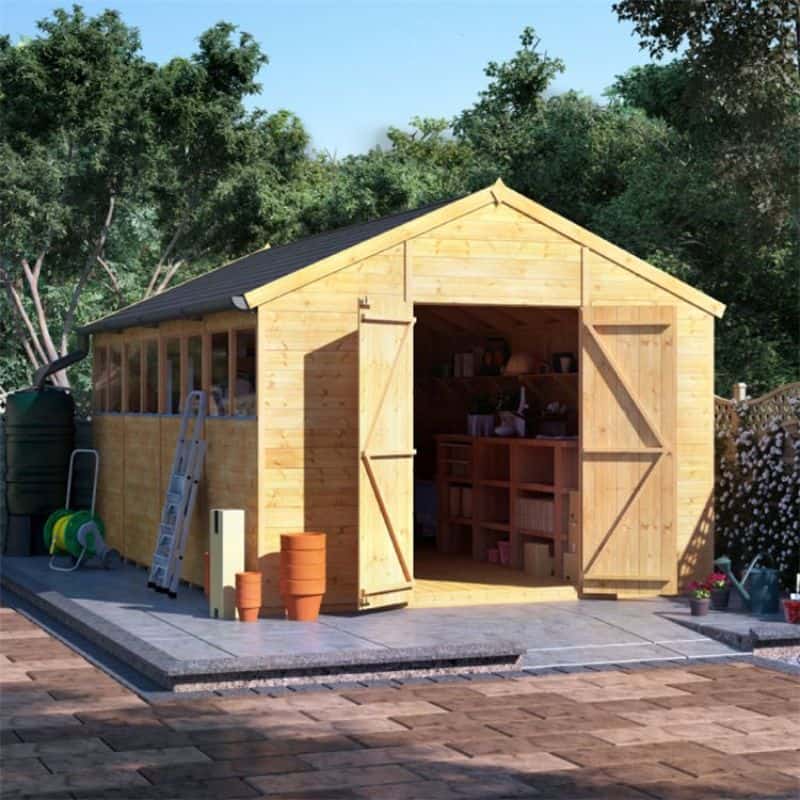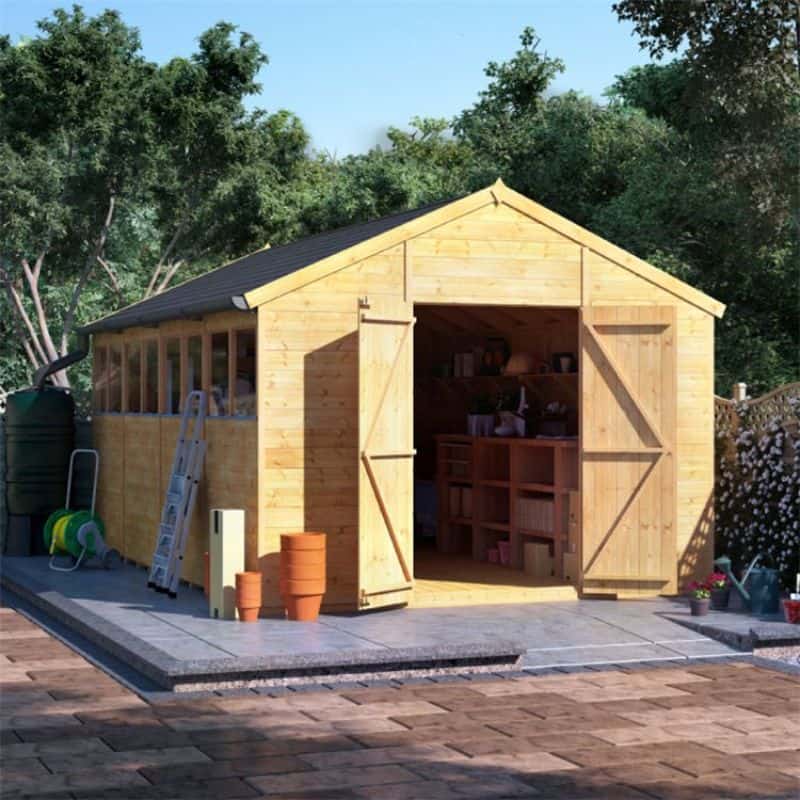 What separates this shed from the one mentioned above is its style of roof. A typical apex shed can be distinguished from a reverse apex one as slopes form the V-shape down either side of the shed. Whereas in a reverse apex shed, the V-shape is formed by slopes down the front and back of the workshop.
The internal height provided by this roof in the BillyOh Expert Tongue and Groove Apex Workshop makes it an ideal hub of productivity, whether this be for storage, or as an area to pursue DIY projects, which would have been otherwise unfeasible.
To increase the longevity of this workshop, pressure treatment is a brilliant option. Pressure treatment involves dipping timber into tanks full of preservatives – until these chemicals are fully immersed in the wood. 
Going for this option will make your workshop more weather-resistant going forward. It may even save you money on wood maintenance in the long run!
Available sizes:
10 x 8 – £689.00

12 x 8 – £835.00

12 x 10 – £1,045.00

16 x 8 – £1,075.00

16 x 10 – £1,225.00

20 x 10 – £1,265.00
3. Best Garden Sheds: BillyOh Master T&G Apex Shed (Price: £315.00)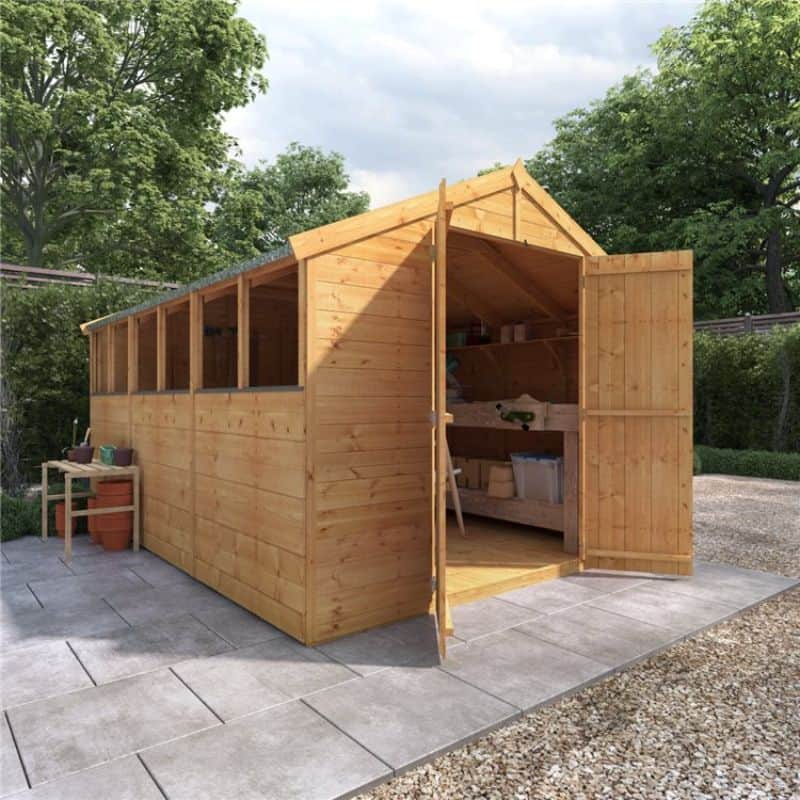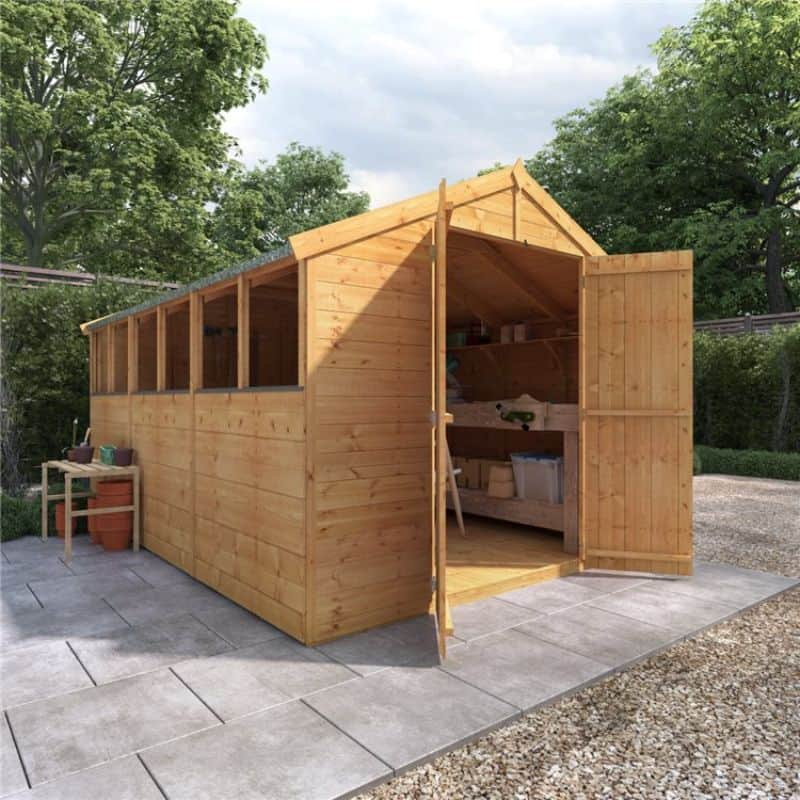 Designed with several customisable features, the BillyOh Master T&G Apex Shed serves as an ideal storage building with its robust and durable construction and range of optional extras. This shed is all about providing your family with a dependable storage shed for years to come.
The Master is built with endurance in mind, mostly thanks to the hard-wearing tongue and groove construction. T&G panels are excellent for providing weather resistance, keeping rainwater out and generally providing protection from the harshest UK weather. 
The rigidity is possible thanks to the panels which interlock to form the tongue and groove cladding, leaving no space for water penetration or weather damage.
The flooring can also be selected as T&G. This option is ideal for storing heavier items, or if you intend to use your shed as a workshop. Much like the vast majority of our wooden shed range, the BillyOh Master Tongue and Groove Apex Shed comes in a vast scope of sizes.
8 x 6 (Pressure Treated – Edito's Pick) – £555.00

4 x 6 – £315.00

8 x 6 – £379.00

6 x 8 – £515.00

8 x 8 – £539.00

10 x 6 – £555.00

10 x 8 – £679.00

12 x 8 – £759.00
4. Best Garden Sheds: BillyOh Keeper Overlap Apex (Price: £229.00)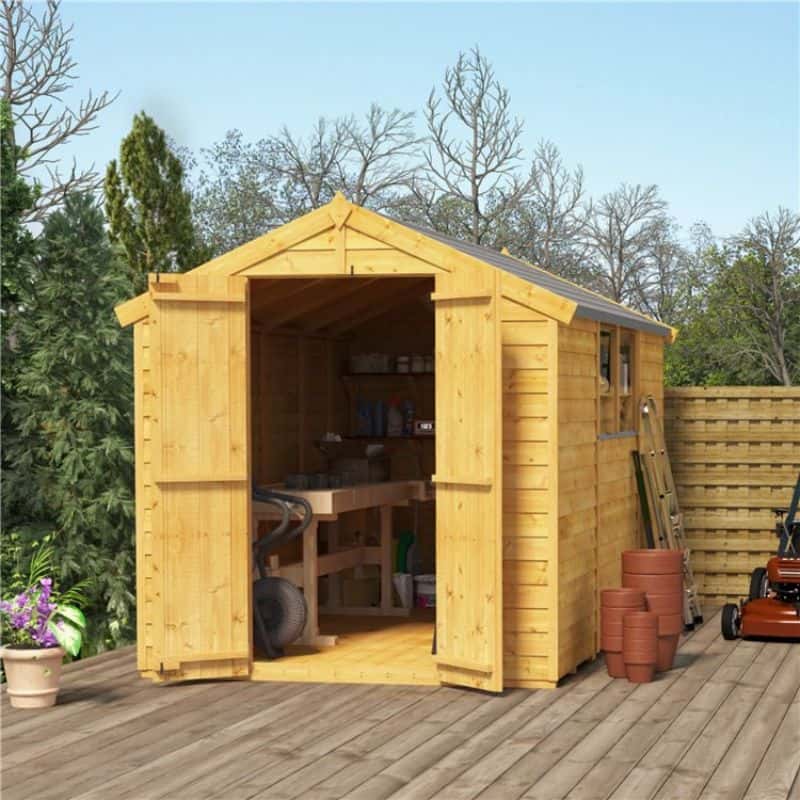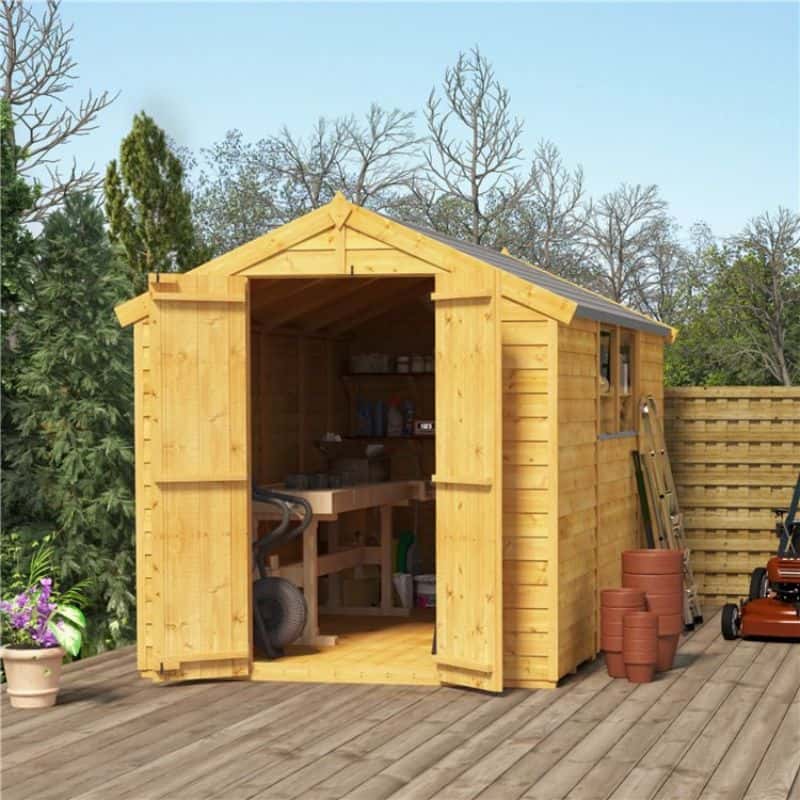 The BillyOh Keeper Overlap Shed personifies the ideal starter shed which is suited to garden storage needs which don't entirely extend to heavy-duty items and years of accumulated clutter. Instead, this shed is perfect for all of the standard items which you'd expect to find in an average garden setting.
The Keeper has been constructed with 7mm overlap panels, allowing it to embody a rustic aesthetic which is durable and eye-catching in equal measure. The sloped design of overlap panels allows rainwater to run off of them, without getting into the shed and ruining the contents within. 
Moreover, because overlap cladding doesn't form a full seal on the walls, air ventilation is optimised, thus helping to keep rot and damp at bay. This garden shed can also be chosen in 13 unique sizes—four of which are pressure treated options while the other nine represent non-pressure treated sizes.
This extensive array of sizes to choose from virtually guarantees that if this shed is the one you're gravitating towards, then you'll be able to find the ideal size to match; one which is just perfect for your garden!
8 x 6 (Pressure Treated – Editor's Pick) – £380.00

4 x 6 – £229.00

8 x 6 – £289.00

4 x 8 – £355.00

10 x 6 – 420.00

12 x 6 – 489.00

8 x 8 – £495.00

10 x 8 – £529.00

12 x 8 – £555.00

16 x 8 – £690.00
5. Best Garden Sheds: BillyOh Expert T&G Pent (Price: £649.00)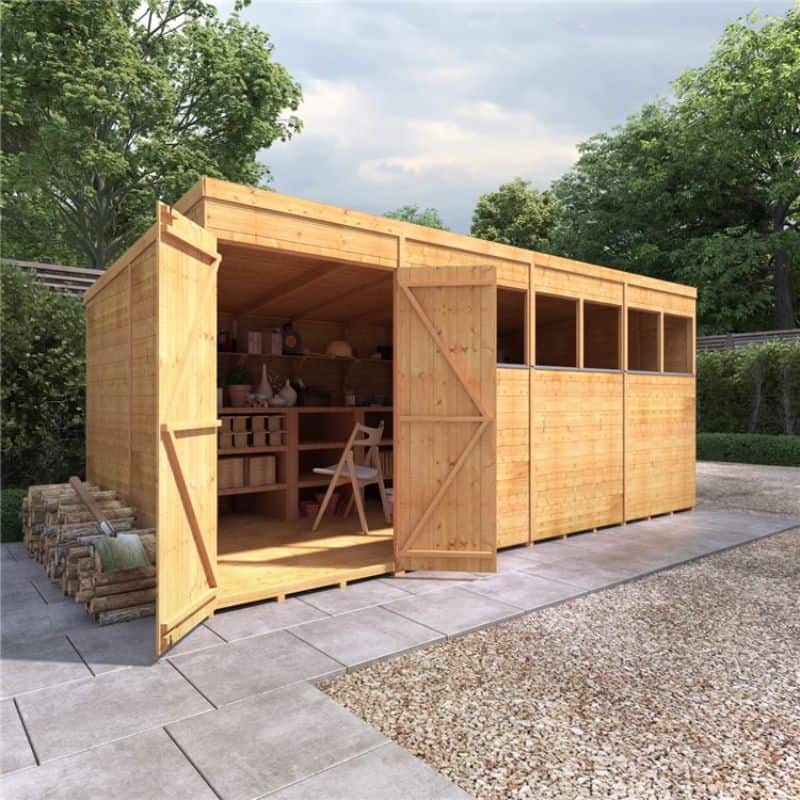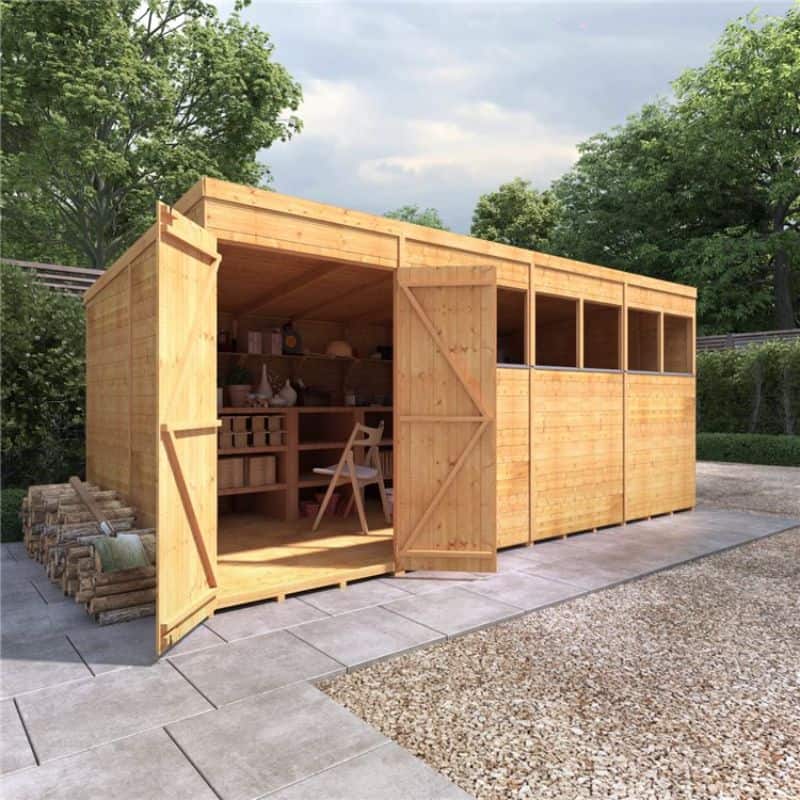 The BillyOh Expert Pent Workshop is a garden building which is both grand and contemporary, finding the perfect balance between practicality and aesthetic. 
This workshop is ideal for those with more extensive gardens and needs which stretch beyond that of smaller alternatives—whether these needs take the form of DIY pursuits or only storage.
Thanks to high eaves and ridges, the generous headroom provided by the Expert makes mobility within the shed incredibly easy, especially at the front, where the greatest height is offered. In addition, it allows you to store numerous items with ease. Wide-opening double doors make the often arduous task of transporting things in and out of your workshop a surprisingly comfortable job. 
When it comes to performing heavy-duty DIY tasks within your garden building, a base able to withstand such operations is essential, so purchasing a foundation on which your workshop can be reliably built is an additional extra we strongly advocate.
Available sizes:
10 x 8 (Pressure Treated – Popular Choice) – £1,015.00

8 x 8 – £649.00

10 x 8 – £769.00

12 x 8 – £859.00

16 x 8 – £1,135.00
Best Garden Sheds: Metal Sheds
Unlike its wooden counterpart, metal sheds don't require a great deal of post-construction maintenance. A light scrubbing and dusting when dirt and dust begin to collect should more than suffice, saving you heaps of time in the long run.
Listed below are our best-selling metal sheds.
1. Best Garden Sheds: BillyOh Ranger Apex Metal Shed (Price: £315.00)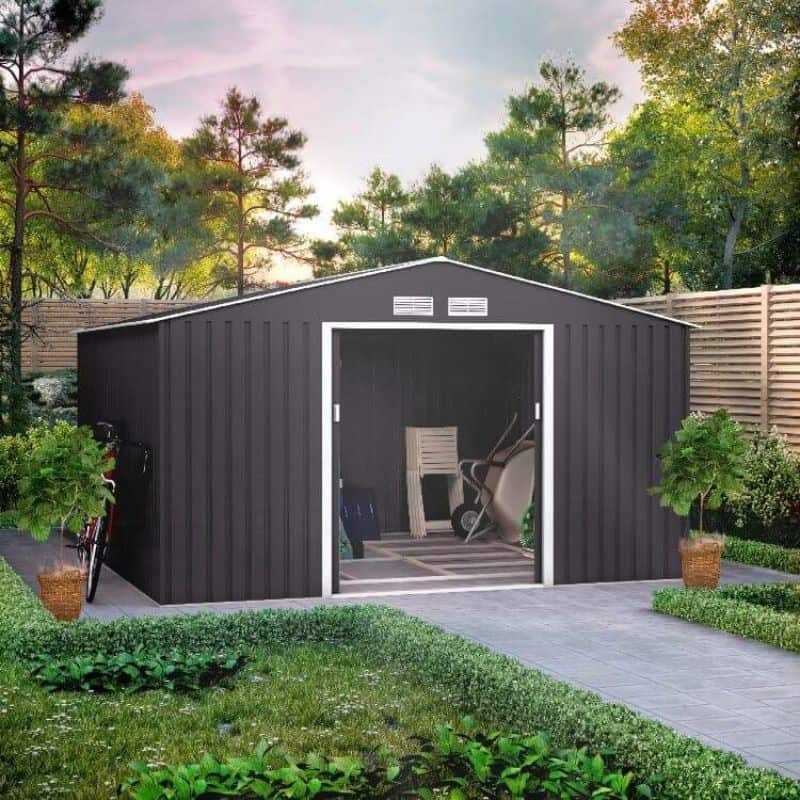 The BillyOh Ranger Metal Storage Shed is a hard-wearing unit with multiple uses and purposes. Reinforced 25mm thick galvanised steel provides this shed with additional strength and sturdiness, making it an ideal secure storage unit for gardening essentials, bikes and mowers.
Even when picking the smallest size available of this shed—the 7×4—the interior is spacious enough to fit in all necessary items. This shed can also be utilised as a workspace to pursue DIY projects, with a high apex roof providing plenty of internal headspace to this end.
With further reference to security, a windowless design will make certain that your belongings are kept firmly out of sight and private from prying eyes outside. If you do indeed opt to use this shed as a workspace, then the windowless design will equally offer you privacy whilst you work.
Available sizes:
7 x 4 – £315.00

7 x 6 – £395.00

£469.00 – 9 x 6

£555.00 – 9 x 8

£625.00 – 9 x 10 

11 x 10 – 735.00

11 x 14 – £865.00
2. Best Garden Sheds: BillyOh Cargo Pent Metal Shed (Price: £289.00)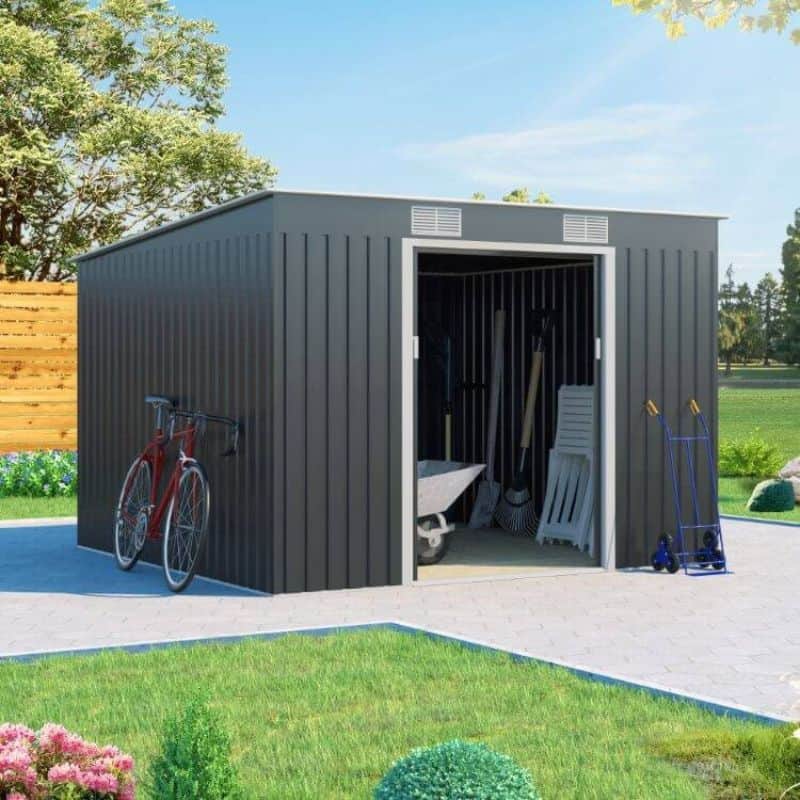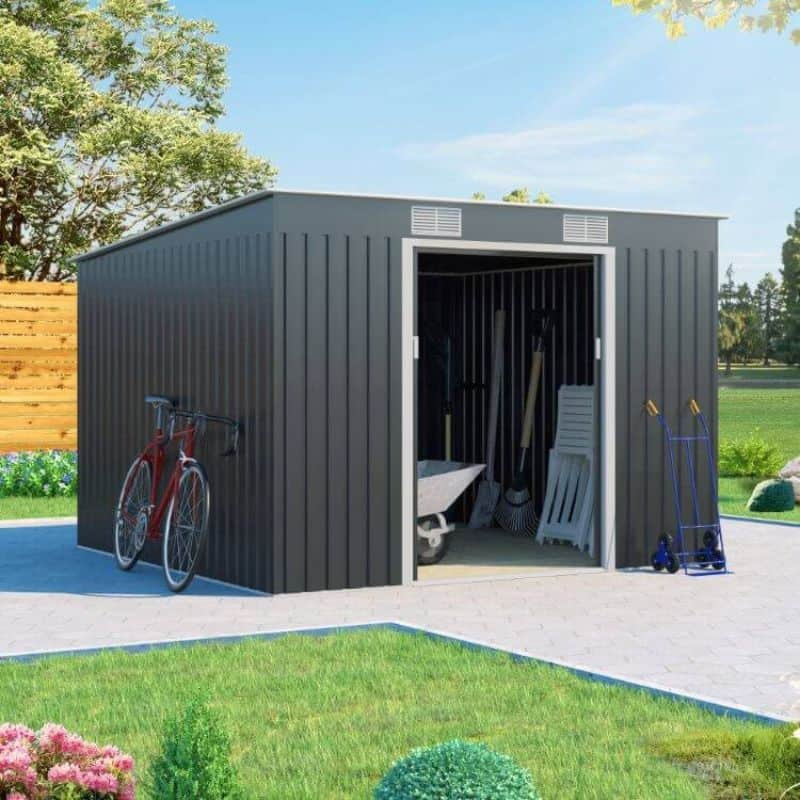 In terms of garden storage, the BillyOh Cargo Pent Metal Shed is an incredibly useful and practical option. 
Available in either dark green, dark grey or light green and finished with a modern pent roof, this is a deceptively sizeable garden storage solution which is ideal for garden tools and equipment. Even bikes will be able to fit snugly inside this storage container.
The pent roof offers multiple advantages, such as the additional headspace provided by a sloping roof. This slope will also assist in avoiding a build-up of debris on your roof, with rain, snow and twigs nicely running off the back of the shed, saving inconvenient clean-up time in the future.
You certainly don't need to be an expert builder to get your Cargo Pent Metal Shed quickly up-and-running, thanks to fast and easy assembly, as well as a handy instruction manual which is simple to follow. Once erected, maintenance will likely be at a minimum, thanks to thin gauge, hot-dipped galvanised steel which is highly resistant to issues such as rust or corrosion. 
Available sizes:
£289.00 – 9 x 4

£335.00 – 9 x 6

£395.00 – 9 x 8
Best Garden Sheds: Plastic Sheds
Plastic sheds aren't faced with the same issues posed to other types of garden shed, such as rust or rot, meaning they offer a storage solution which is both practical and hassle-free.
Check out our great range of plastic sheds below.
1. Best Garden Sheds: BillyOh Ashford Apex Plastic Shed (Price: £395.00)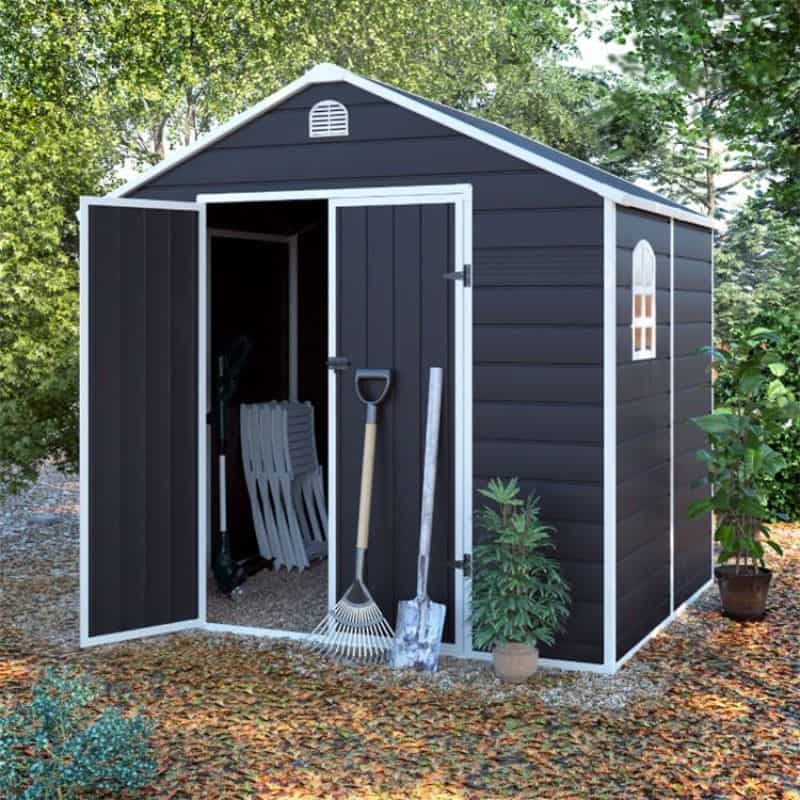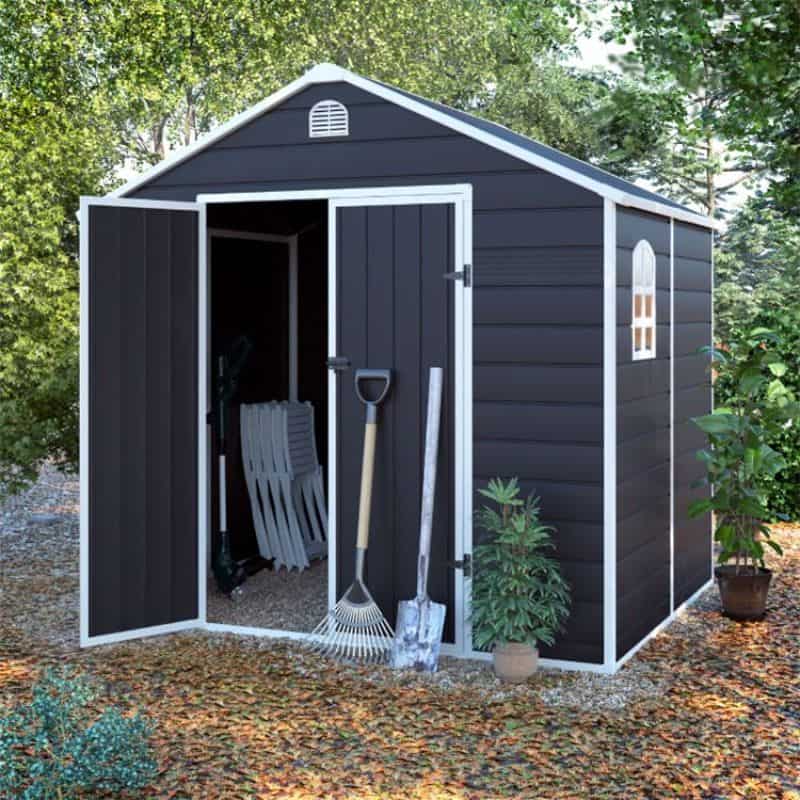 The Ashford Apex Plastic Shed is a great storage option for any garden. With a traditional Apex style and a stunning dark grey finish, the Ashford shed combines traditional and modern styles perfectly.
Once assembled, it'll require little maintenance thanks to highly durable plastic. Included with this garden shed is a steel foundation kit. This provides a solid area on which the shed can be built, providing essential structural integrity.
With a range of handy features and an included Foundation kit as standard, the Ashford is a durable and reliable option for your garden storage needs.
2. Best Garden Sheds: BillyOh Kingston Apex Plastic Shed (Price: £455.00)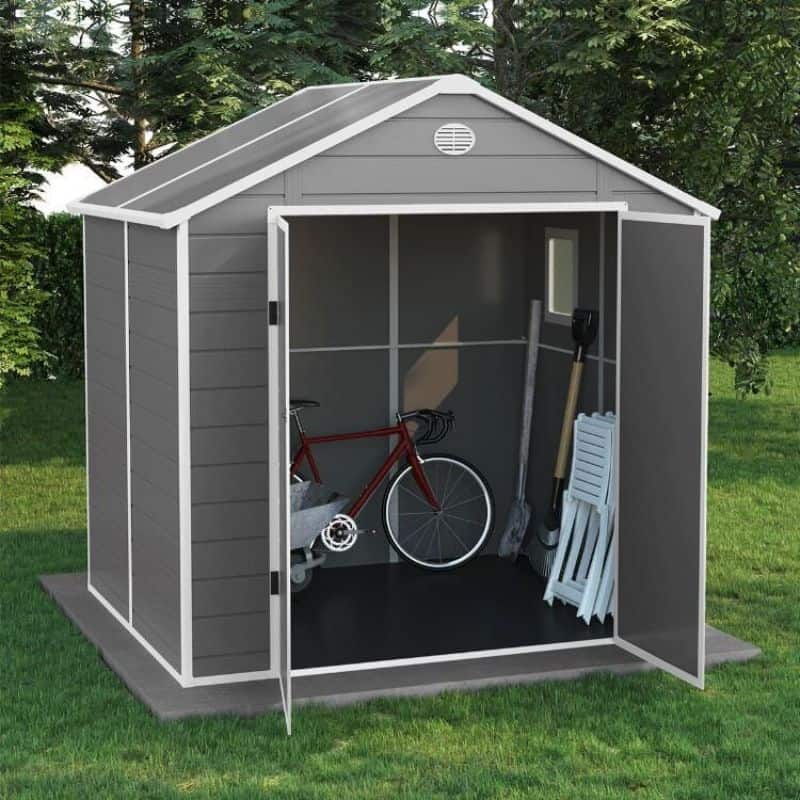 Much like the Ashford Apex Shed, the BillyOh Kingston Apex Shed is a durable and low-maintenance storage solution which will comfortably be able to house your garden supplies. 
Designed as an apex style shed and finished in a stylish grey, this shed is highly current and will positively promote any garden aesthetic. It also comes with double doors to make transporting items in and out of your shed as painless a process as possible.
This shed also includes moulded plastic flooring. Not only does this provide a sturdy base to your shed, but it'll additionally keep the contents of your shed clean and dry, providing essential protection from the worst weather the UK can throw at it. 
A further benefit of this floor is that it allows the Kingston Apex Shed to be placed onto a number of level surfaces, such as concrete, paving slabs or grass. As is the case with all our plastic sheds, the Kingston Apex Shed has been designed for effortless and speedy assembly. The instructions included are equally easy to follow. 
Available sizes:
6 x 3 – £455.00

8 x 12 – £959.00
Why You Should Trust Us at Garden Buildings Direct
Garden Buildings Direct is a leading manufacturer and seller of garden buildings; be it sheds, log cabins, summerhouses, playhouses and more. We invest huge amounts of time and manpower into ensuring our products are the very best they can be, whilst maintaining prices that allow our customers to always feel happy in spending relatively little for such an excellent product.
Because of this, we like to think that we know a thing or two about garden sheds, and feel confident in saying that the above garden sheds are our absolute best garden sheds – so are absolutely worth checking out!