A garden shed is a quintessential part of UK culture. That's why we've brought you a list of the 9 best sheds for 2021. We'll look at the:
Price
Design features
Uses
Materials
and more
of the best sheds available across all styles and budgets for this year. So whether you're looking for a she-shed or man cave, or just somewhere to store your tools – you'll find something for you on this list.

From our range of high-quality garden sheds and fast delivery, we've picked our 9 most popular (and diverse) garden sheds from our wood, metal, and plastic categories.
So keep scrolling to see what sheds came out on top in 2021 and narrow down your search today.
Garden Buildings Direct's 9 Best Garden Sheds
Wooden Sheds:
Metal Sheds:
Plastic Sheds: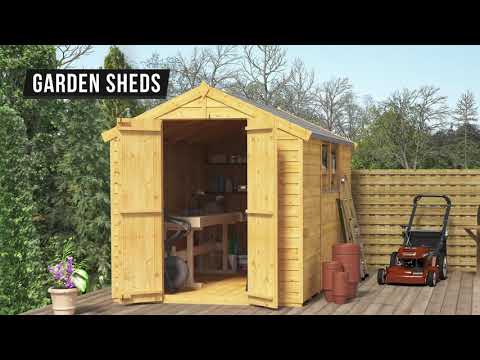 ---
Best Wooden Sheds
The BillyOh Expert T&G Reverse Apex Workshop represents the perfect garden building if you want to spend more time working in your garden. Available as a 10 x 8 shed, all the way up to a 20 x 10 model, you can get create the DIY workshop that suits your needs.
Perfect for a multi-purpose garden room – you can use this reverse apex workshop for garden storage as well. Sizes range from being able to comfortable store tools and lawnmowers all the ways up to multiple bikes, and more!

Built using tongue and groove cladding (which allows two panels of wood to be joined together with an interlocking notch), this is a highly durable shed that would be an excellent addition to any garden.
The Expert T&G Reverse Apex Workshop is available in :
| | |
| --- | --- |
| 10 x 8 | £1,219 |
| 12 x 8 | £1,399 |
| 12 x 10 | £1,787 |
| 16 x 8 | £1,793 |
| 16 x 10 | £2,193 |
| 20 x 10 | £2,393 |
What separates this shed from the reverse apex workshop is the style of the roof. Unlike a reverse apex, where the two slopes of the roof fall down to and away from the door, an apex roof slopes down to either side of the door. So side-to-side for an apex roof and front and back for a reverse apex.

This means that the internal height of the BillyOh Expert Tongue and Groove Apex Workshop makes it perfect for storage, or as an area to pursue DIY projects – anywhere that you want to move things in and out of (or to store tall items upright).
You can even increase the life of this model with optional pressure treatment. By introducing preservatives and chemicals to the timber in a vacuum, they can penetrate deeper than surface-level dip-treatment. In turn, we can offer our BillyOh 15-year guarantee against rot, decay, and insect infestation on our pressure-treated sheds.

Making your garden shed more weather-resistant for longer can also save you money on things like sealant and wood treatments down the line.
The BillyOh Expert Tongue and Groove Apex Workshop is available in:
| | |
| --- | --- |
| 10 x 8 | £1,143 |
| 12 x 8 | £1,335 |
| 12 x 10 | £1,683 |
| 16 x 8 | £1,713 |
| 16 x 10 | £2,043 |
| 20 x 10 | £2,245 |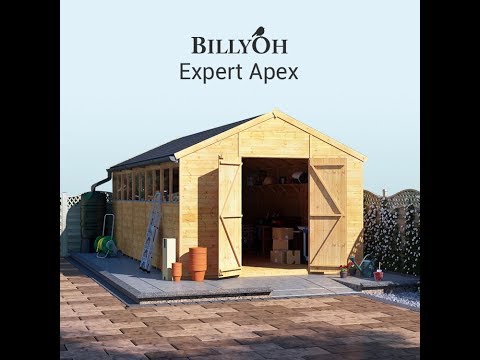 Available with several customisable features, including windowed and windowless options, the BillyOh Master T&G Apex Shed is an awesome storage building. With its robust and durable construction and range of optional extras, this shed is all about providing your family with a dependable storage shed for years to come.
The Master is built with endurance in mind, mostly thanks to its hard-wearing tongue and groove construction. T&G panels are excellent for providing weather resistance, keeping rainwater out, and creating a strong interlocking join.
You can even choose to have the flooring pressure treated or to opt for a thicker T&G cladding if you want to better insulated and prevent your shed floor from things like rising damp. This option is also ideal for storing heavier items.

The BillyOh Master T&G Apex Shed is available in:
| | |
| --- | --- |
| 4 x 6 | £469 |
| 8 x 6 | £605 |
| 6 x 8 | £759 |
| 8 x 8 | £859 |
| 10 x 6 | £855 |
| 10 x 8 | £1,055 |
| 12 x 8 | £1,175 |
The BillyOh Keeper Overlap shed is the quintessential starter shed, suited to garden storage needs for new homeowners and those on a budget. Suitable for storing everything from wheelbarrows to bikes in a weather-resistant building, the Keeper also has a lovely traditional look to it.
The Keeper has been constructed with overlap panels that embody a rustic aesthetic whilst being durable and keeping your contents safe. The sloped design of overlap panels allows rainwater to run off of them, without getting into the shed and ruining the contents within. 
Moreover, because overlap cladding doesn't form a full seal, air ventilation is optimised, thus helping to keep rot and damp at bay. This garden shed can also be chosen in 9 sizes – some with the option to further pressure treat them!
You can see why the Keeper Overlap is so popular, with options to fit garden sizes and budgets everywhere.
The BillyOh Keeper Overlap Shed is available in:
| | |
| --- | --- |
| 8 x 6 (Pressure Treated - Editor's Pick) | £719 |
| 4 x 6 | £369 |
| 8 x 6 | £505 |
| 4 x 8 | £537 |
| 10 x 6 | £709 |
| 8 x 8 | £709 |
| 12 x 6 | £829 |
| 10 x 8 | £885 |
| 12 x 8 | £935 |
| 16 x 8 | £1,195 |
The BillyOh Expert Pent Workshop is a garden building with a gorgeous contemporary aesthetic. The Expert workshop isn't just about looks, though, it's also a heavy-duty shed perfect for storage or DIY.
Thanks to high eaves and ridges, the generous headroom provided by the Expert makes mobility within it incredibly easy, especially at the front, where the greatest height is offered. With extra options for shelving, you can also store stuff and make the most of your wall space.
Wide-opening double doors make the task of transporting things in and out of your workshop a doddle, too. 
And, with base options to provide suitable support for the heavy-duty DIY tasks taking place within, you can ensure your workshop is properly protected.
The BillyOh Expert Pent Workshop is available in:
| | |
| --- | --- |
| 10 x 8 (Pressure Treated - Popular Choice) | £1,553 |
| 8 x 8 | £953 |
| 10 x 8 | £1,155 |
| 12 x 8 | £1,289 |
| 16 x 8 | £1,705 |
| 20 x 8 | £2,193 |
---
Best Garden Sheds: Metal Sheds
Unlike their wooden counterparts, metal sheds don't require a great deal of post-construction maintenance. A light scrubbing and dusting when dirt and dust begin to collect should more than suffice, saving you heaps of time in the long run.
That's why we just had to include some metal sheds on our list of the 9 best garden sheds for 2021. Listed below are our best-selling metal sheds.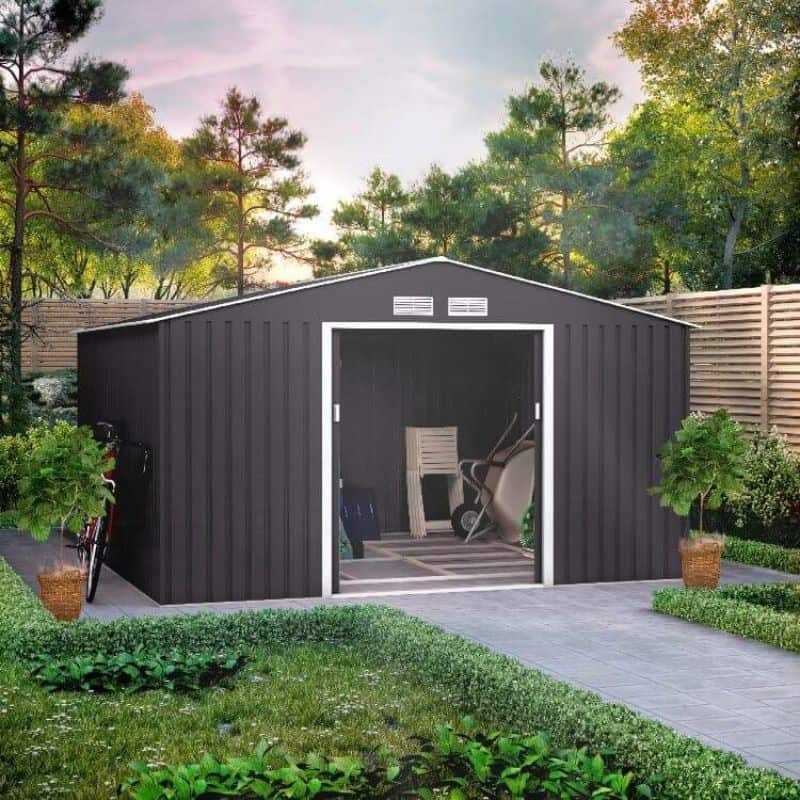 The BillyOh Ranger Metal Storage Shed is a hard-wearing unit ready for multiple uses. Reinforced galvanised steel provides this shed with strength and sturdiness, making it an ideal secure storage unit for gardening essentials, bikes, and mowers.
Available from as small as a 7 x 4 shed, we're sure that we've got a Ranger to suit your available space. This shed can also be utilised as a workspace to pursue DIY projects, with a high apex roof providing plenty of internal headspace.
And, with a windowless design, you can add to its natural security by making sure your items are out of sight. Finish off with a heavy-duty lock and you're golden!


The BillyOh Ranger Metal Storage Shed is available in:
| | |
| --- | --- |
| 7 x 4 | £349 |
| 7 x 6 | £435 |
| 9 x 6 | £515 |
| 9 x 8 | £639 |
| 9 x 10 | £689 |
| 11 x 10 | £809 |
| 11 x 14 | £955 |
In terms of garden storage, the BillyOh Cargo Pent Metal Shed is an incredibly useful and practical option. 
And, available in either dark green, dark grey or light green and finished with a modern pent roof, this is a metal shed that's still big on aesthetic value.
A sizeable garden storage solution that's ideal for tools, equipment, and even bikes – the Cargo pent can handle all your storage needs.
Plus, a pent roof allows for excellent water runoff and no collection of debris which could cause undue pressure on your roof. If you live in an area of the UK that gets snow, this is the perfect choice for you.
Built from easy-to-assemble panels, you (and a friend) can simply follow the instructions that come with your order and have your Cargo shed up in no time. Once erected, maintenance will be at a minimum thanks to the hot-dipped galvanised steel which is highly resistant to rust and corrosion.


The BillyOh Cargo Pent Metal Shed is available in:
| | |
| --- | --- |
| 7 x 4 | £269 |
| 9 x 4 | £319 |
| 9 x 8 | £459 |
---
Best Garden Sheds: Plastic Sheds
Plastic sheds aren't faced with the same issues as metal or wooden sheds. They're usually cheaper, lightweight, and still weather-resistant and very durable.


So check out our great range of plastic sheds below.
The Ashford Apex Plastic Shed is a great storage option for any garden. With a traditional Apex style and a stunning dark grey finish, the Ashford shed combines traditional and modern styles perfectly.
Once assembled, it'll require little maintenance thanks to highly durable plastic. Included with this garden shed is also a steel foundation kit. This provides a solid area on which the shed can be built, providing essential structural integrity.
The Ashford Apex Plastic Shed is available in:
| | |
| --- | --- |
| 6 x 6 | £625 |
| 6 x 12 | £899 |
| 8 x 12 | £1,109 |
The BillyOh Oxford Plastic Storage Box is compact and durable garden storage at an attractive price. Great for turning small spaces into dry and secure places to store your possessions.
With a floor included, this building can be assembled and put to use with minimal construction and effort. Due to its plastic panels, this building requires little to no maintenance; giving you a stress-free storage solution.
The BillyOh Oxford Plastic Storage Box comes in one size:
Width:

1.98m (6ft6)

Depth:

0.91m (3ft)

Eaves:

1.33m (4ft4)

Ridge:

1.49m (4ft11)
---
Why You Should Buy From Garden Buildings Direct
Garden Buildings Direct is a leading manufacturer and seller of garden buildings; be it sheds, log cabins, summerhouses, playhouses and more.
We invest huge amounts of time and manpower into ensuring our products are the very best they can be. That's why we're able to maintain prices that allow our customers to always feel happy when they invest in a BillyOh garden building.
We like to think that we know a thing or two about garden sheds. That's why we're confident that these are the 9 best garden sheds for 2021. Whether you want a traditional wooden apex shed or a more modern metal pent roof, there's something for everyone on this list.
So check out our best garden sheds now via the button below!
Shop The Master Apex Shed
FAQs