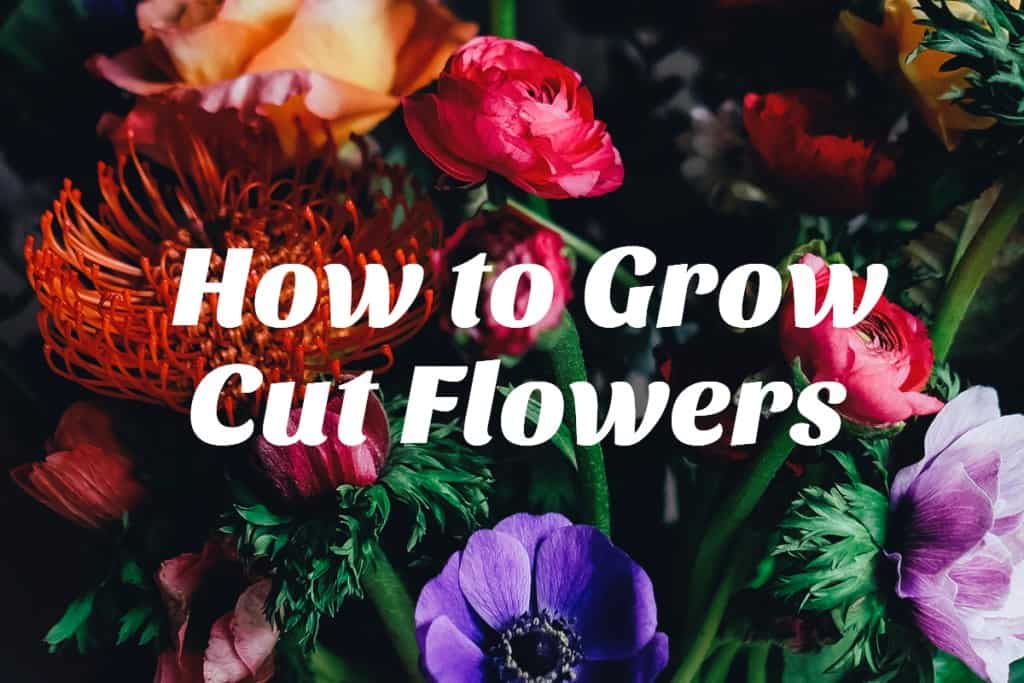 Now is the perfect time to establish flowers in your garden which can be cut and beautifully displayed in your home! There's nothing more cheerful than a fresh bunch of flowers on a coffee table, dining table or kitchen counter and there's something even more special when those flowers have been grown in your own garden!
Many plants can be enjoyed as cut flowers and they also offer a cheaper and more diverse range than the florist. If you'd love to decorate your home with gorgeous, colourful blooms this summer, follow our simple steps for how to grow a cut flower garden.
Where to grow
If space allows, dedicate a part of the garden just for growing cut flowers. The benefit of this over cutting flowers from borders is that it avoids depleting beds and borders, as well as providing a more productive area for you to grow.
However, if you are adapting existing borders, plant larger groups of annuals, perennials and bulbs suited for cutting to allow for picking without affecting the overall appearance of the border. Don't forget to incorporate a few well-chosen shrubs and grasses with interesting foliage.
Cut flowers need weed-free fertile soil so make sure the soil has been weeded before you start planting. Annual applications of organic matter, especially to sandy and clay soils, helps to retain moisture and improve soil structure.
Most cut flowers are sun lovers so pick a spot you know will get plenty of sunlight to help them thrive. Moreover, windy sites are best avoided as the taller flowers will not do well in these areas. You should also avoid frost pockets if possible.
How to plant
You should plant in rows, as this makes weeding, staking and picking much easier. However, if the rows are planted too close together they can get tangled up and might get damaged. So, allow access to the rows and they'll be easy to harvest.
As taller flowers are often favourable for cutting, it's important to keep in mind that they sometimes need robust supports. In dry summers watering may be necessary to achieve good stem length. Propagate perennials from seed or divide mature clumps in spring or early autumn. Some can be also propagated from basal cuttings or from root cuttings.
Choosing Plants
Growing cut flowers is easy if you choose the right plants for your garden. But where do you begin? Make a list of annual and perennial flowering plants that you want to grow. When selecting plants for cutting, it's important to make sure they are suitable for the location.

Annuals:
The initial outlay of buying seeds is less than when buying perennials e.g. sunflowers, cosmos, cornflower and larkspur. They have to be sown every year, but this can be an opportunity to try new or different plants. Limited flowering seasons can be extended by sowing in autumn or propagating plants in a greenhouse.

Herbaceous perennials
:
Choose perennials that offer a long season of picking. Include foliage plants. If raised from seed many perennials will not flower in the first year. However, if sown early some such as Achillea millefolium 'Summer Pastels', Agastache, echinacea and delphinium may flower in the same season.

Bulbs:
Bulbs are great for the cut flower garden as many start flowering in late winter or early spring. Extend the picking season by planting early-, mid- and late-flowering cultivars. Bulbs such tulips and hyacinths may not flower well in following years, so consider discarding the bulbs and planting new stock each year. Bulbs can be forced by an initial period rooting in cool and dark conditions before being brought indoors to flower from mid-winter. Bulbs, narcissi, for example, lend themselves to naturalising in grass or deciduous shade from where blooms can be taken without reducing flowers in the garden.

Shrubs:
Evergreens and early-flowering shrubs such as camellia, Japanese quince (Chaenomeles), forsythia and witch hazel (Hamamelis) can provide invaluable cutting material in winter and early spring. However, shrubs can produce abundant ornamental foliage all year round. Allow shrubs to establish and settle into flowering before cutting.

Climbers:
A number of climbers are useful as they not only provide flowers but some bear attractive seed heads (clematis) or fruits (roses) as well.
Harvesting your cut flowers
Once your flowers have developed, you can harvest them and create beautiful arrangements for your home! Bring a bucket of water with you to place the cut flowers into while cutting so that they don't wilt. For best results, harvest your flowers early in the morning.
Creating your Bouquets
Once you've collected the cut flowers from your garden and brought them indoors, make a fresh cut on each stem and place immediately in the vase or container you will be displaying them in. You can display your cut flowers in bowls, bottles as well as vase's, be creative! Remove any leaves that will be in the water to discourage bacteria growth and add a floral preservative to your arrangement to make it last as long as possible. Change the water every other day to keep water fresh and enjoy your garden flowers as cut flower bouquets!