The BillyOh 4000 Gable Lincoln Tongue and Groove Apex at a Glance
The BillyOh 4000 Gable is a tongue and groove shed with increased weather resistance and sturdier design than classic sheds , ensuring a fantastic quality garden shed.
With increased head room and wide double doors, the 4000 Lincoln gives greater storage capacity and manoeuvrability compared to standard apex sheds.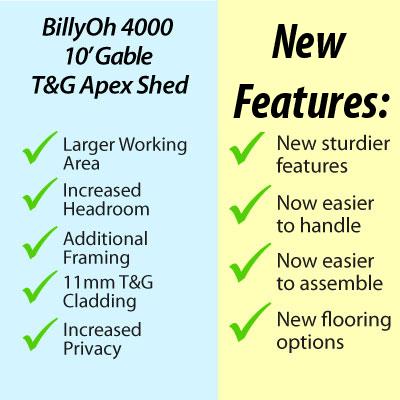 Floor Option
As standard this building will be supplied without a floor which saves you money and allows you to fully customise the floor and foundation that you want your building to be on.
However we also have other fantastic alternative flooring solutions available to meet all our customers' needs ranging from an 'Economy Solid Sheet Floor' to a 'Premium Tongue and Groove Floor' depending on the chosen building. If you require any further information on this please contact our experienced sales team on 0800 169 6016.
For our floorless shed base recommendations CLICK HERE
Please note: The external eaves and ridge heights will vary slightly dependant on floor option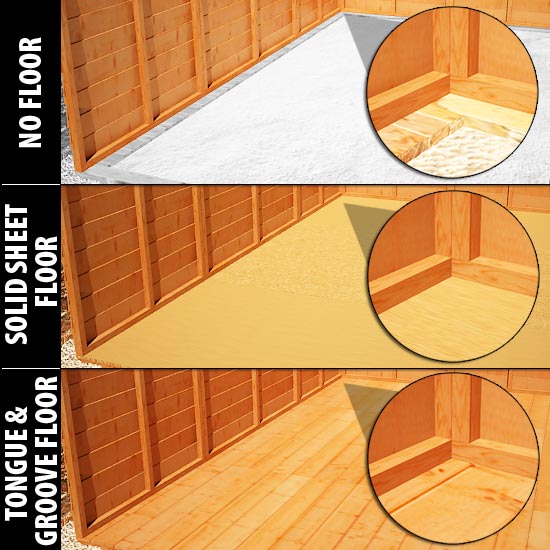 Additional Framing
NEW to the 4000 we have added thicker horizontal framing as part of the standard specification on the Lincoln range. The rigidity of this is highly noticeable in comparison to other buildings of a lower spec
There is an additional top rail and a thicker bottom rail supplied to improve rigidity
We have taken away the "wobble" with this new sturdier design. So if having a sturdier garden shed is something that you want, remember to look out for this new feature, only available in our new models.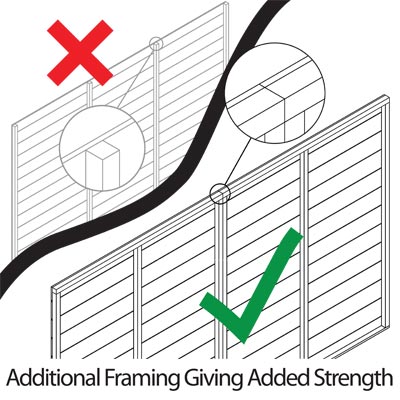 Wide Easy Access
The wide double doors allow for easier access to the building so moving your garden items such as lawn mowers and tools will not be a problem.
The BillyOh Lincoln sheds use two slim doors to reduce external door opening radius, whilst still giving a large door opening for greater manoeuvrability of larger items.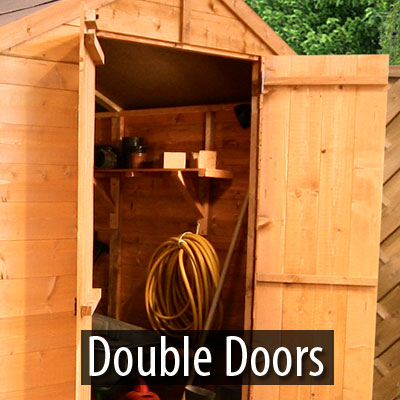 Easier and Safer to Handle
With the smaller sections, it means the building can be moved through doorways, passages and smaller entrances much easier than other sheds with the old style large panels. Our buildings are much more elegant to handle so you don't always need two or more people to move your shed
Moving this BillyOh shed has never been easier as each wall is split down into smaller, more manageable sections.
So if you have to move it through your house to get to the back garden, the panels are in nice smaller pieces. Also, handling a large section has always been difficult when assembling or moving a shed so these more manageable pieces make manoeuvrability so much easier.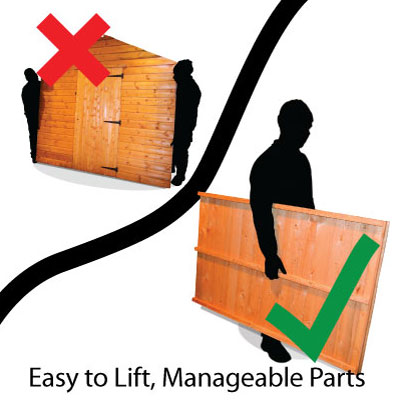 Easier to Customise
The Interchangeable sections allow for multiple variations.
The new BillyOh range allows you to choose how you want to arrange your shed, having windows on either side is now possible by just switching the panels around. Click the letter on the left to simulate some of the possibilities of customisation. A = Windows on the left B = Windows at the front C = Windows at the back D = Windows on the right.
Making Assembly Much Easier - How?
This new smaller sections mean assembling the shed is far easier. The walls have been broken down into managable sections to make handling the panels easier and safer compared to many other buildings on the market.
The optional floor sections come pre-assembled from the BillyOh factory, which is again another feature setting this product apart from other sheds available on the market.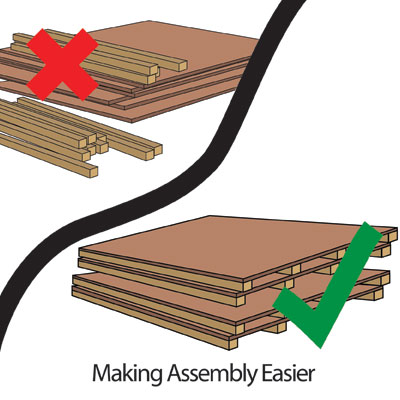 Order Process
Order Process: Not only do we aim to offer the best value for money, but our delivery service is second to none. All of our products include free delivery to selected postcodes; check our postcode search facility to see if you qualify for free delivery.
How your shed will be delivered: The shed will arrive via our scheduled delivery service and is delivered straight to the kerb of your house. The 4000 10' Gable is delivered in sections – the quantity and size of the sections vary depending on the size of shed ordered. Some items may also be banded together for protection during delivery.