Designed to be Safe and Fun
The Lollipop Max Tower Xtra Playhouse with Wave Slide was designed by our team with the aim to provide a versatile, safe children's playhouse that can be safely used at all times.
A key feature of this playhouse is the wave slide which enhances the enjoyment whilst being used and will provide hours of fun!
This product is supplied with a water based coat as standard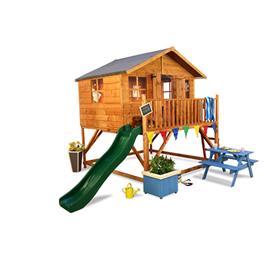 Medium Wavey Slide
The Lollipop Tower Playhouse features a choice of wave slides that kids will love to play on, all fully CE certificated to ensure maximum safety. The Standard slide is a good value entry-level option, available in a single colour (green), and with a regular thickness and length of 1.7m.
On the other hand, the Premium slide is thicker and more robust for a heavy-duty construction, and slightly longer at 2m to give just that little extra sliding room. The Premium slide also has the choice of different colours (see options above), so your child can choose their favourite.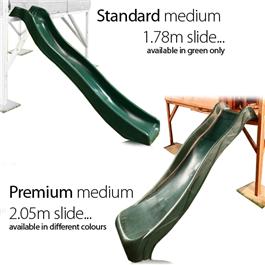 Platform and Ladder
The Lollipop Max Tower Playhouse, based upon the popular Lollipop, will provide hours of fun and amusement for your children. This unique style playhouse includes a Lollipop playhouse mounted on to a raised 0.955m platform complete with 0.615m deep verandah and ladder.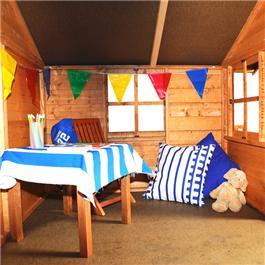 Great Fun for Kids
The Mad Dash Lollipop Max Tower Extra Playhouse is a fantastic little playhouse that is ideal for almost any garden and is great fun for all the kids. Designed and constructed by us in the UK this truly is a stylish and practical playhouse that your children will love. Attention to detail shows and combined with some great features this means the playhouse will blend beautifully into your garden.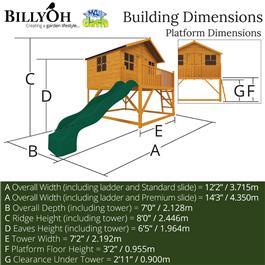 Saloon Style Door
The Mad Dash Lollipop Max Tower Extra Playhouse comes with a fun saloon style door as standard which allows for safe fun at all times.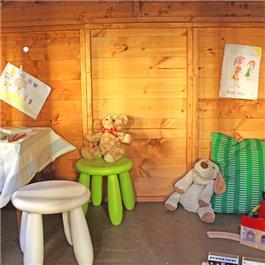 Warnings and Recommendations
Warnings.
1) Only for Domestic Use
2) Outdoor use only
3) Not suitable for children under 36 months - Raised platform. Falling Hazard
4) Maximum user weight is 50kg

Safety recommendations
1) Adult assembly is required minimum of 2 people.
2) Children require adult supervision when using this product.
3) This product is safety tested to British standards BS-EN71 for domestic use.
4) A minimum clearance of 2m from obstructions or structures is recommended.
5) Building is assembled on a level surface with a minimum clearance of 2m from obstructions or structures.