Dream home
A playhouse is a great way to put a smile on your children's faces. It will also get them playing outside in the garden getting plenty of exercise and fresh air that they need to grow up fit and healthy. The Dutch Barn playhouse will inspire their imaginations, where they can be free to play in their very own dream world, whilst getting all the exercise they need!
The Dutch Barn playhouse is suitable for both girls and boys, for ages ranging from 3-12 years and is a great option for their friends to enjoy as well. With their own dream playhouse and all the space they need, the garden will soon be their favourite place to play!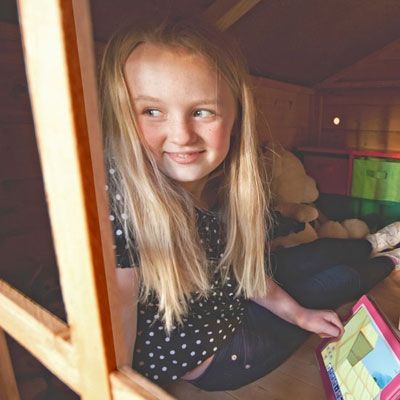 Upstairs, downstairs
With its large interior space, the Dutch Barn will also give your children a room all to themselves. By adding a bunk, your playhouse will have a whole new level of fun! A bunk will create the perfect cosy corner, a quiet place for them to read, play games or just hang out with their friends. With a ladder to climb and a sturdy platform, it will be an ideal place for a secret hideaway or even a pirate ship, who knows what they will think of next!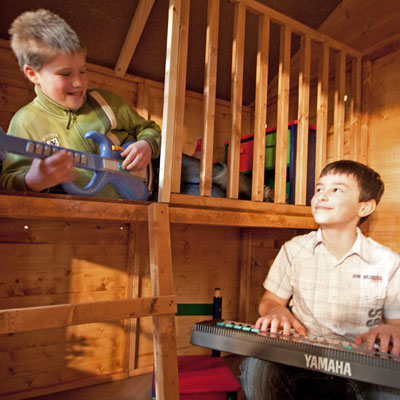 Happy and Healthy
Your children will soon be happy and healthy and always out in the garden playing with their friends. Their adventures will keep them occupied for hours on end, and what better way spend their afternoon than playing outdoors getting fresh air!
With them spending more time in the garden playing, your house will be more peaceful and quiet, whilst still being able to watch your children having fun. You will even have more time to relax yourself, or even invite your friends round while your children are out playing. A playhouse is a great idea for birthday parties, or any family occasion to keep them out of mischief!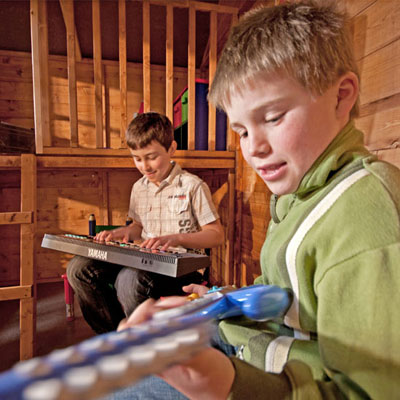 Perfect for Girls or Boys
Adding a touch of colour and personality will make their playhouse an even more exciting and imaginative place to play. Give their playroom a make-over by creating their own special world that they have always dreamed about.
A playhouse with a bunk will make a great hideout for a boy, or a girls cosy corner in her fairy tale fantasy. Our choice of playhouse colours will really bring their playtime to life and make your garden an exciting place to be!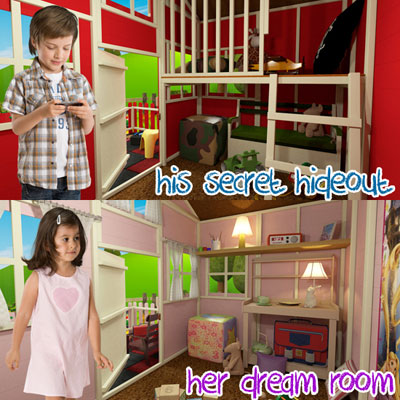 Extend their play space
By choosing from our picket fence options, you can give your playhouse additional play space. The large picket fence option will give you an extra enclosed space, perfect for storing toys and keeping your garden tidy!
Whilst being practical, it will even add more style to their dream house, and more colour if you wish to paint it. Give them an even better play to play!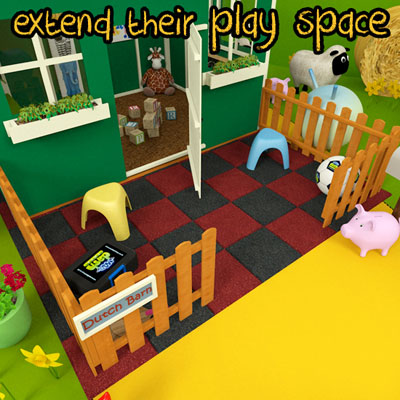 Added Character
With a farm yard style design, the Dutch Barn is one of our most exciting and inspiring playhouses in our range. With its barn style roof and extra front window, your children will soon be imagining their next great adventure!
A Picket Fence will make an excellent addition to your playhouse, giving it even more personality and ideas for your children to imagine. This country style fencing will create a unique look that your children will cherish and really give them a playhouse to be proud of.
The fencing can be placed on the ground and will give you a premium enclosure to help keep your garden tidy and free from their toys. By adding colour, your garden will be even more exciting and make playtime even more inspiring! Their playhouse will be their favourite place to be!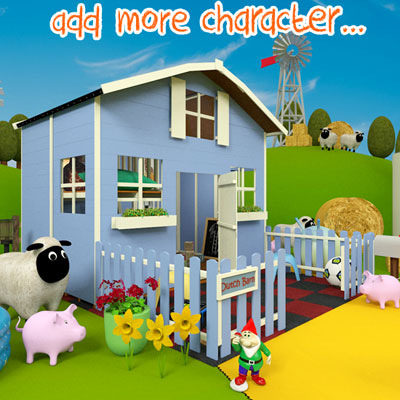 Warnings and Recommendations
Warnings.
1) Only for Domestic Use
2) Outdoor use only
3) Not suitable for children under 36 months - small parts. Choking Hazard
4) Maximum user weight is 50kg

Safety recommendations
1) Adult assembly is required minimum of 2 people.
2) Children require adult supervision when using this product.
3) This product is safety tested to British standards BS-EN71 for domestic use.
4) A minimum clearance of 2m from obstructions or structures is recommended.
5) Building is assembled on a level surface with a minimum clearance of 2m from obstructions or structures.